The Queue: Chewy, we're home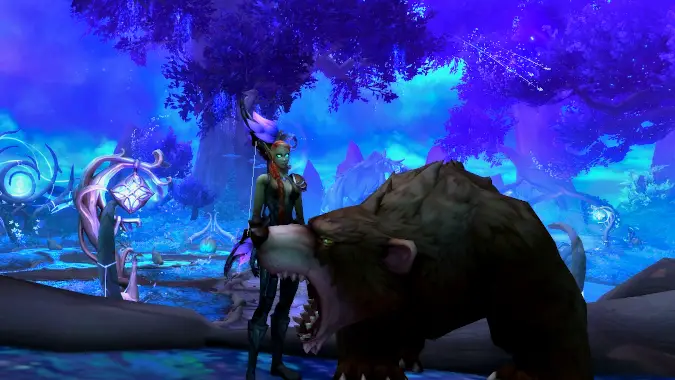 After a very busy BlizzConline weekend, Rutherford and I are so glad to be back at The Queue! Don't mind him, he's just mad I compared him to a space dog.
This is The Queue, where you ask us questions and we are more than happy to take a break for a minute to answer them.
---
RJAGODA
So, Q4Lio: ASIDE FROM pet battles, what sort of Warcraft mobile game would you most be interested in playing?
Literally anything. That's not a joke.
My son has always been a light sleeper, so putting him to bed has always been a relatively long event. Yes, I know you're supposed to just put them down and leave starting when they're tiny, and I definitely recommend you learn from my mistake and do that. So, after we sing a song and read a story and turn off the light, he snuggles up and rolls around… so I play mobile games. Every night. He's five. Add in the pandemic and schooling from home, where my daughter needs a reminder every so often that you need to get your work done, and I will sit right here until you do so young lady, and more of my gaming than not is on my phone these days.
So, if you name it, I've played it on a phone. Survival shooters, 2048s, match three, sudoku, battle royale PVP, gatcha, card games, PVP tactics, RTS, time management, puzzles, anagrams, trivia, mergers, clickers, idlers… even a little mobile game you may have heard of called Hearthstone. I actually took the excuse when they announced Diablo Immortal to buy a new phone, which is now last-gen and I'm kind of annoyed by that, but it's been two and a half years now. So yeah, if Blizzard put out literally anything as a mobile game, I'd try it out.
Right now I'm still played the crap out of Random Dice, which is a PVP tower defense game, though the gatcha element leaves something to be desired. I've been playing Archero on and off, but I'm not all that into action on my phone right now, and its monetization is arguably even worse. I also almost always have some kind of puzzle game going on… right now it's Luna Story Picross 2, which was recommended to me by AU Liz.
---
SAYORNIS
Q4tQ: What are some of the goals that you have before 9.1 drops? Is there anything that you're working on in hopes of completing before the next big patch?
I've been pretty focused on Raids/M+ so far and I'm getting close to finishing up the Keystone Master achievement and the Glory of Shadowlands Hero achievements. I'm not really sure where to put time in once that's finished though. I'll definitely continue to work on upgrading my Ember court (the reviews on that party are raving!)!!
I'm just working my way toward making the Queen's Conservatory not feel awful to engage with, honestly.
I don't really have any specific goals. I'm kinda-sorta working my way up Torghast, but since there's no true reward for playing it beyond Soul Ash, I'm kinda stuck until I get better gear (or an outlandishly good set of Anima Powers one run). I do LFR, and I try to find pugs for M+, but I don't really have a group to push stuff with — nor do I have the time or inclination to do so seriously. I'm working on battle pets, and trying to get alts up to level.
It's weird though, because I found Covenants to be very engaging initially, but the slow progression overall — and the Conservatory specifically — really took the wind out of my sails.
---
PIDIA
Q4TQ: How many Love Rocket attempts did you do this year? Did you succeed?
I queued once just to do it, and then meh.
I'm not much of a mount collector to begin with, and none of my characters would really 'fit' riding it, so for me it's not really a priority to begin with. My Gnome Monk uses Squeakers or the Mists of Pandaria CE mount, my Blood Elf Hunter uses the Legion Order Hall mount or a different beast-style mount with minimal saddles and baubles like the Trained Snarler, and my Vupera Rogue is dutifully working through her Legion Order Hall because come on, fox on a crow? That's a childrens' book in the making. I'm still not completely sure which mount to use with my Undead Priest, but I know a Love Rocket ain't it.
Beyond that, I'm not great at math, but I know that the chances of me getting it are so low it's not even worth the ol' college try. So yeah, once to say Happy not-Valentines' Day, and then keep it moving.
---
JAXDADDY
Another QftQ: What's your soap of choice? I'll take Dial or Irish Spring. I'd prefer to burn Ivory or Dove on a pyre.
Bar soap? What year is this.
Scents are tough in our house because my husband is allergic to almost everything. Spices are usually okay, and fruit is sometimes. "Strawberry" or "vanilla" is fine to grab without a sniff test, but "strawberry whisper" or "cinnamon dreams" almost always has some additional additive that makes him sneeze. Anything floral, even flowers, usually makes his eyes water and then he starts wheezing. Very strong scents do it too, no matter what it is — he usually has me go to grocery stores on his behalf in the autumn because of those damn cinnamon brooms. I also have sensitive skin, so especially in winter heavy scents can tend to cause contact dermatits.
For body wash I use Raw Sugar Watermelon and Mint scent. It's hydrating and fruity but refreshing. The Mr. has also been known to swipe my OGX coconut moisturizing shampoo to use as body wash, because he thinks it's less expensive than body wash, despite me forcefully informing him that no it most certainly is not. For facial wash I usually use CeraVe Hydrating Facial Cleanser, which is unscented and very moisturizing but feels weird to use initially — it's like rubbing thick lotion on your face rather than soap.