Henry Cavill has teased a potential Mass Effect project and I'm very excited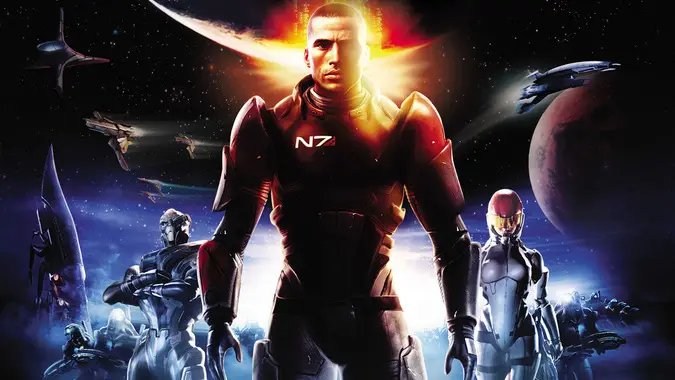 Actor Henry Cavill recently posted a picture of himself reading some material while in a hair-and-makeup chair. Actors do that all the time — after all, sitting in one of those chairs for hours on end is pretty boring. This time, though, what he posted is a major teaser for a potential project that he may or may not be working on.
While the actual text in his picture was lightly blurred to make it mysterious, some enterprising sleuths at Gamepressure tweaked the clarity and managed to find four very specific and telling words: Reaper, Cerberus, Geth, and Tali'Zorah! Reaper and Cerberus are both fairly innocuous on their own — there are lots of organizations and people named Reaper. When you combine them with Geth and Tali'Zorah, though, it speaks to only one property — Mass Effect!
Excuse me while I jump for joy.
The biggest question now is who Cavill would play. He is a leading man, having helmed major Hollywood blockbusters like Man of Steel and Netflix shows like The Witcher. So it stands to reason that he'd be Commander Shepard — which would mean that the series is focusing on a male Shepard. He would also make for a great supporting character in any potential project. He's got the size to play Garrus or Wrex which would leave the main slot open for a female Shepard. She was my favorite choice to play through the games as. I just fell in love with Jennifer Hale's voice work for her. I couldn't bear to play any other way.
Mass Effect is one of my favorite franchises of all time. The chance to get a fully realized project starring Cavill would be amazing. I'm honestly surprised that it's taken this long for there to be any reasonable teases around a potential tv show or movie. The first Mass Effect game launched in 2007 and the franchise has been going since then, with a complete remaster of the first trilogy dropping in May. In addition, there's another Mass Effect game in development, although details on that are scarce.
Maybe we'll get more details about this when the Legendary Edition comes out. Until then I'll be busy imagining all the different possibilities of who Cavill could be — like Blasto the Hanaar Spectre! (Editor's note: Personally, I'm hoping for Conrad Verner.)