WoW
Feb 26, 2021 6:00 pm CT
Valor Points can also be used to purchase crafting materials in Oribos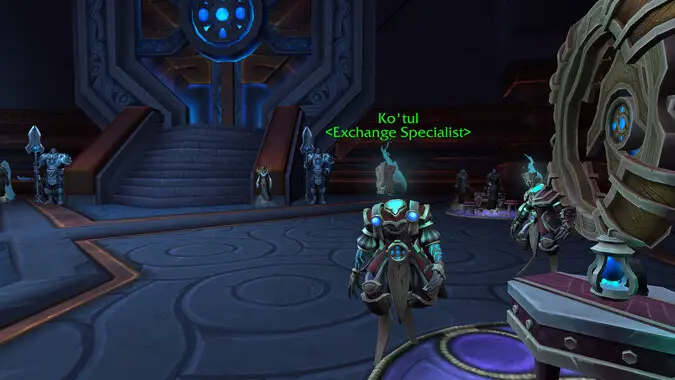 Returning in patch 9.0.5, Valor Points are primarily going to be used to upgrade the weapons and armor that you get from Mythic Keystone dungeons, but Blizzard is also including a way to spend if you don't have any M+ gear that you can upgrade. You'll be able to take them to a Broker named Ko'tul who hangs out next to the Great Vault in Oribos to exchange your Valor Points for bags containing Heavy Calloused Hide, Lightless Silk, and Elethium Ore.
These bags are listed for 750 Valor Points right now, which feels a bit high. That's the current cap on the PTR of how many Valor Points you can earn in a week. This also solves the problem that arises when you can only upgrade your Mythic Keystone gear once you've hit certain breakpoints. If you can't complete all of the Shadowlands dungeons on time at level 5/10/15 you won't be able to raise your gear past a certain ilevel. Some players will never complete all of the dungeons at that point and would wind up hitting the Valor Point cap of 3,000 points with nothing new to spend them on. This way they'll at least be able to convert their points into useful materials to help level their professions or make some money on the Auction House.
This also gives players who don't do any Mythic Keystone dungeons at all, but do make sure to complete their Covenant Calling quest every day, something to spend their Valor Points on. Of course, since it's only 35 Valor Points per Calling completed, that'd take you a long time — something is better than nothing, though.
Hopefully, this creates a better supply of those materials leading to cheaper prices for Legendary base items. I know that the Leatherworking items in particular cost an arm and a leg more than the Tailoring or Blacksmithing ones simply because of how tough the Heavy Calloused Hide can be to obtain. You could spend an hour slaughtering beasts and skinning them and only have a handful of hides by the end of it. Here's hoping this can help even out that cost.