Patch 9.0.5 will let you wear your sunglasses at night (and the rest of the time)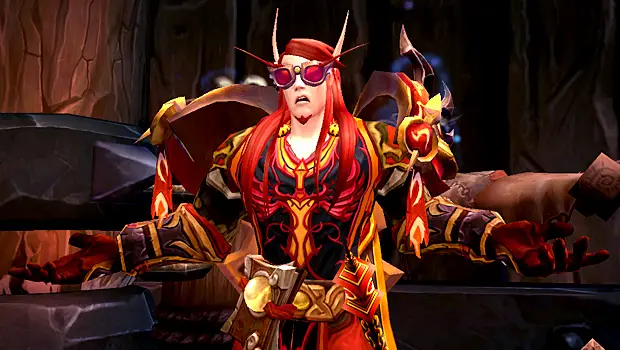 In advance of BlizzConline, Blizzard has still been hard at work on patch 9.0.5. A new build has hit the PTR and it includes most of the usual tweaks and number changes that you'd expect from a World of Warcraft patch. Underperforming classes like Shaman are getting buffed, Torghast is picking up some buffs and nerfs to a bunch of Anima powers — it's nothing we haven't seen before. But snuck into the middle of the patch notes is a change so monumentally earth-shattering that it will have ramifications for years.
Rhinestone Sunglasses can now be used in transmogrification and will appear in your collection once found.
That's right folks. You'll finally be able to protect your eyes from the bright lights of Bastion and Oribos in style when patch 9.0.5 launches on March 9. I've heard people floating rumors about a future expansion being set on one of Azeroth's moons –but with this change maybe there'll be an expansion set on Azeroth's sun!
The only downside to this news is that Rhinestone Sunglasses are extraordinarily expensive. They were added in the Cataclysm expansion and are an amazingly low drop for Jewelcrafters. They don't need that much in terms of materials, but due to the rarity of the pattern the prices for them on the Auction House are exorbitant, to say the least. I've seen them go for as much as a million gold, although recently they've been closer to 100,000 gold. They're truly a luxury item. But with the change to their transmog rules, maybe that'll change. People with the recipe might start to produce more and drive the price down! I wouldn't mind paying 20,000 gold for a sweet pair of sunglasses.
There's no word yet on other eyewear becoming viable for transmog too. So sorry monocle enthusiasts, you'll have to wait your turn. Hopefully, this change means that the bronze-tinted sunglasses from the Warcraft Anniversary event will be available to be transmogged all year-round.
All I know for now is that the future is so bright — I've gotta wear my shades.
Originally posted 2/18/2021. Updated 3/8/2021.