WoW
Mar 29, 2021 10:00 am CT
It's time to be brave — Courage the battle pet has been found! Here's how to get Shadowlands' last hidden battle pet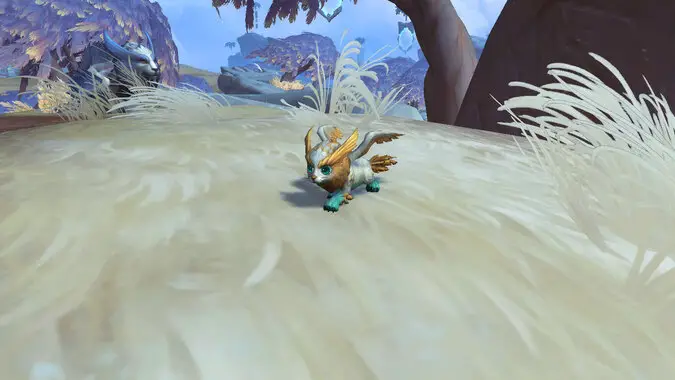 The (currently) last hidden Battle Pet of Shadowlands has been found! Courage the Larion Cub was the last holdout. Nobody knew how to get their hands on this cute little pet — until just recently. Thanks to Deowulf and the folks at Xu-Fu's Pet News we know how to convince Courage to join our collections.
Thankfully, getting Courage doesn't involve collecting multiple parts, like the Necrolord pet Carpal, though you will need the help of a few friends (or LFG). You just have to go pay a visit to the Larions of Nemea's Retreat (coordinates 57,39). There are nine Larion Cubs scattered around the area to pet. Each time you pet one of them they get a ten-second purring buff. When at least five out of the nine cubs are purring at the same time, Courage will show up next to Nemea and demand their own pets — just like a real cat! Simply right-click on Courage and they'll join your roster.
You need at least three players to make this happen, and it's easier to do in a larger group since you can have someone pet each different Larion at the same time. But you could do it with fewer people if you're quick about getting from cub to cub. Keep in mind that a truly proper cat petting takes a few seconds, so you might not be able to pet three Larions before the first one stops purring, but you could definitely pet two! You can get Courage while in a raid group, so if you only have a couple of friends just try making a group in the premade finder and I'm sure that you'll have a team of people ready and willing to pet as many cats as they can.
Important note: don't have a critter-killing companion out while you're trying to do this, or you won't get very far.
Courage would make for a good complement to your pet battling teams, too. He's a flying pet with beast abilities which could be useful for getting your Family Battler achievements, but he's also got a pair of buffs that he can choose between. Uncanny Luck buffs your team's hit and critical chances, and Perk Up increases their maximum health. Use Uncanny Luck with a pet like Anodized Robo Cub so that their Demolish gets up to a 100% chance to hit — and then sit back and watch it just demolish your enemies.
Now that we've gotten Courage, there's just one pressing question left. Who is cuter, Courage or Jiggles?
Originally published March 11, 2021. Updated March 29, 2021.