WoW
Apr 12, 2021 8:52 pm CT
The Anima drought is easing up (but not by much) as Blizzard increases Anima rewards (in certain cases)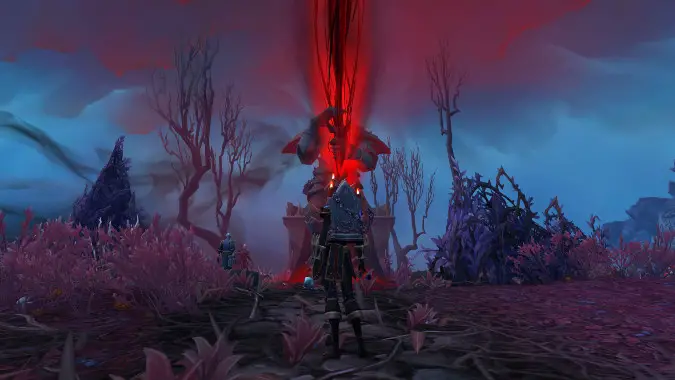 The Shadowlands Anima drought is coming to a close… at least for players who have already farmed and spent a lot of anima. In a hotfix that is live right now, Blizzard has added a trio of new achievements that will increase the number of Anima tokens you get from most sources. The new achievements are all tied to your Covenant Sanctum upgrades and are already being awarded if you meet the criteria.
With hotfixes that have just gone live in all regions,
Three new Achievements have been added for upgrading all four of your Covenant Sanctum features to tiers 1, 2, and 3.
Anima rewards now scale upward when you earn each new Achievement for unlocking a tier on all four of the features in your Covenant Sanctum.
Now, when you upgrade all of your Covenant features (the Adventures system, transportation network, Anima conductor, and Queen's Conservatory/Ember Court/Path of Ascension/Abominable Stitching) to tier 1, you'll receive an Achievement and see all uncommon and rare Anima rewards increase by 1 Anima item. This means that after you hit tier 1 on all four structures, a World Quest the previously rewarded 4 Anima items worth 35 Anima each (for a total of 140 Anima) will now reward 5 items for a total of 175 Anima. When you upgrade all four Covenant features to tier 2, that same World Quest will reward a total of 210 Anima, and with the tier 3 Achievement, it will reward 7 Anima items, for a total of 245 Anima.
The new Achievements will be granted to player-characters who already have the required Sanctum feature tiers when you next log in, and you can start earning the additional Anima immediately.
Note that this doesn't apply to any of the Epic quality Anima rewards, so you won't be getting multiples of the 250 Anima tokens that you get from the World bosses or Elite World Quests. But even with that, this is still a very welcome change.
Unfortunately, it doesn't look like the effects from this achievement are account-wide currently. You'll still have to upgrade each piece of your Covenant Sanctum for each alt to get the benefits of the new hotfix. Hopefully, this is something that Blizzard changes in the near future. The next Shadowlands patch may be coming to the PTR soon, but it's still likely a few months out from being playable on the live servers. It'd be nice for freshly leveled characters to be able to focus their Anima on the various armor rewards instead of having to put points into the Sanctum first.
The Anima grind has wound up being more punishing than Blizzard probably intended. I've been playing pretty frequently, and even going out of my way a few times to gather more Anima from World Quests, and I still don't have all of my Covenant Sanctum upgrades, let alone enough Anima to even think about buying the cosmetic upgrades. Sure I'd love to have cool backpieces for my character, but I was always prioritizing the Ember Court and Transport network. Thankfully now I'll be able to start working on getting a very dangerous fan of knives to wear on my back.