It's the moment we've all been waiting for — we finally get separate shoulder transmogs in patch 9.1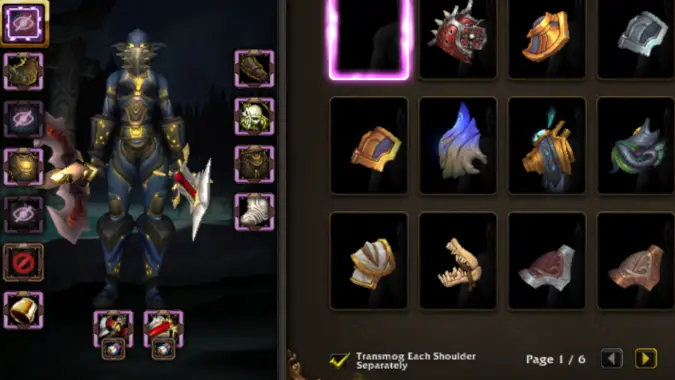 It's not entirely bug free as of the moment I tested it, but at last, the option to transmog your shoulder armor independently is coming in patch 9.1, and I couldn't be happier. This is something I've wanted since transmog was brought to World of Warcraft, and it's something we've been told was coming since Shadowlands was announced, so it's a huge get for us transmog maniacs.
As of right now, which must be noted is the earliest patch 9.1 PTR build, you can't hide just one shoulder — the option to do so is there, but if you try and do it, both shoulders get hidden even if you have the shoulders separately enabled. Also, shoulder looks with just one pauldron, like the Stormscale Shoulders, will only let you mog to the side with the pauldron, which seems like a bug. But you can mog each shoulder to a different armor appearance, and that's pretty fun.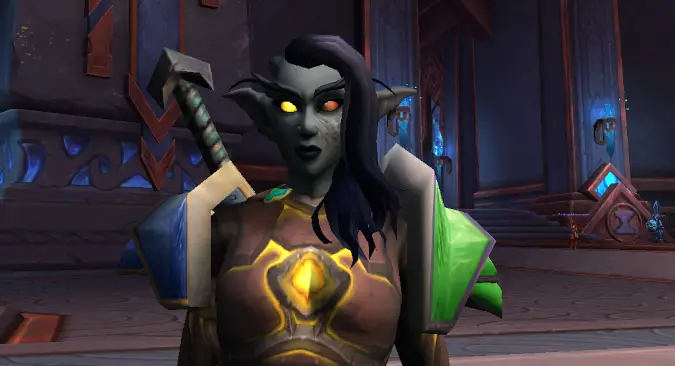 You have to check the Transmog Each Shoulder Separately box for it to work, but once you do, the functionality is there. Aside from not working to hide an individual shoulder piece yet, everything else seems to be available — you can mismatch your shoulders to your heart's content. Sadly, many pieces don't make the jump to the PTR, so I couldn't test my Tier 6 and Tier 10 shoulders together as I'd planned, but you could still do all sorts of experimental sets, like the above blue and green look.
This is a huge step forward for transmog, especially once they get the bugs ironed out so we can transmog one shoulder to hidden and the other shoulder to a specific look. That'll finally mean having a choice about which shoulder to hide, letting you demonstrate left and right handed mogs for the first time in World of Warcraft's history. I don't know if it's possible to be more excited for a change that is technically not all that big a deal, but I somehow doubt it — if I were any more excited my shoulder armor would just melt off.
I'm so looking forward to mogging exactly one of my shoulders to be my shoulders, something I've wanted since May of 2020. It's happening, everyone.