Overwatch Game Director Jeff Kaplan is the latest developer to leave Blizzard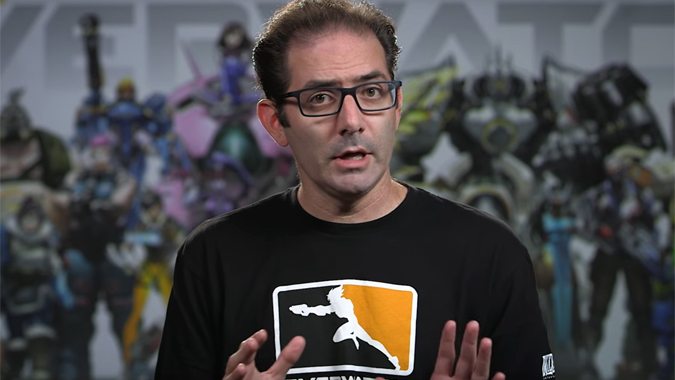 Jeff Kaplan, the game director for Overwatch and its forthcoming sequel, has left Blizzard Entertainment. The news marks the end of nearly two decades for Kaplan at the game studio. From his start as a World of Warcraft designer in 2002, Kaplan rose through the ranks to become the face of Overwatch, gaining fans for his passion for the title as well as his dry sense of humor.
Kaplan shared the news with the Blizzard community in a letter. While he didn't give any insights about his next steps, he thanked the Overwatch team and encouraged people to "Never accept the world as it appears to be. Always dare to see it for what it could be."
His exit means that the Overwatch mantle will be taken up by Aaron Keller. Another long-time Blizzard employee, Keller has been with the company for 18 years, a level designer who took a with a similar path beginning in WoW and moving into Overwatch, where he was most recently the associate game director for Overwatch 2.
Keller also shared some words with the community with his new step into the head spot for the Overwatch franchise. "While I have no pretenses about filling Jeff's shoes," he wrote, "I'm excited to step into the game director role and continue to be part of a team that's putting all of its heart, talent, and focus into the next iteration of Overwatch, and I'm honored to continue serving this incredible community." He did give a broad statement that Overwatch 2 is continuing to make progress and that "more frequent updates" will be coming over the course of 2021.
You can read both Kaplan's and Keller's letters here.
Blizzard has been losing visible leaders left and right across its franchises in recent months. This is one of the highest profile departures for the studio's team shooter, alongside the exit of lead writer Michael Chu in 2020. While Keller is no stranger to players, the Overwatch community will certainly miss Jeff Kaplan's particular blend of joy and deadpan delivery. We at Blizzard Watch are hoping he is excited about whatever changes are in the works.
The change is also sure to spark more questions about the status of Overwatch 2, which has been in development for several years. Players were hoping that the sequel might be released this year, and were disappointed to learn that a 2021 release is not in the cards. While a big change in leadership can be a concern, it's not like Aaron Keller is sweeping in with no experience or familiarity with the franchise. We'll have to wait and see what his approach is and hope that the promised updates about Overwatch 2 do indeed come soon.