Amazon Prime's Invincible, based on Robert Kirkman's comic, is visceral storytelling — sometimes literally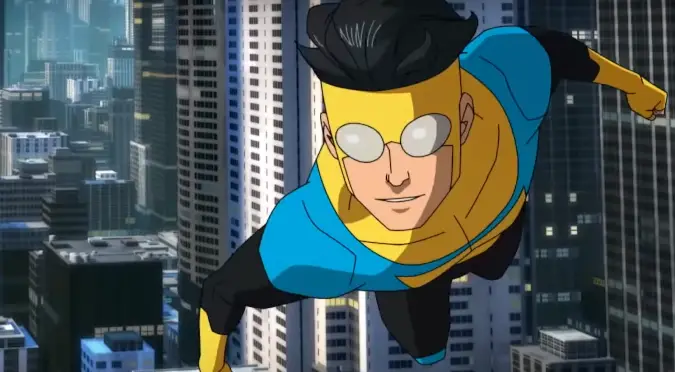 I've long believed that you can recognize when a story is well told — when it has elements of real quality, when it is crafted in an effective and even powerful way — and not necessarily like that story. And the Amazon Prime animated series Invincible, based on the comic book by Robert Kirkman — the writer who created The Walking Dead, which became a phenomenon on AMC — has all the elements of a really well told animated series.
While I'm going to avoid spoilers here, there's still a lot we can talk about.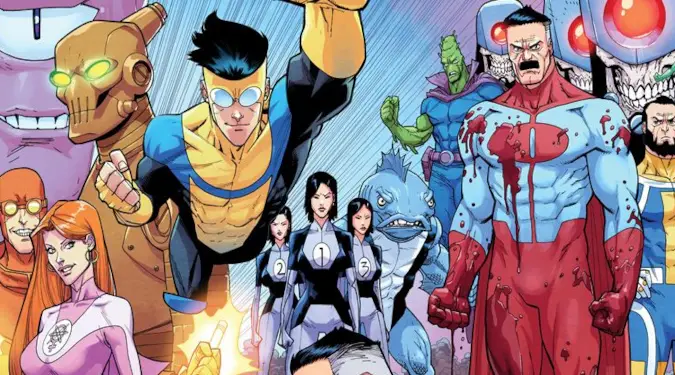 There's a lot I like about Invincible
The writing is crisp and economical, doing an excellent job of unfolding the plot and maintaining its pace while doing so. This is a story with a lot going on, and managing to maintain that story as it becomes apparent there's more to the characters than just a standard teenager gets super powers and has to learn how to be a super hero plot is no small feat — a lot of similar stories have fallen flat, and I'd maintain even the actual comic book isn't this good at keeping the story engaging. I actually find myself liking even some of the villains in this.
The voice acting is uniformly excellent, with the leads selling the story of Mark Grayson (played by Steven Yeun. who does the work of keeping Mark likable while also letting him be a whiny, petulant brat who has no idea what he's doing with his life with great aplomb) and his parents Debbie, a sharp tongued and smart realtor, and her husband Nolan Grayson, who just happens to be Omni-Man, apparently the world's greatest superhero, are masterfully portrayed by Sandra Oh and J.K. Simmons, respectively. Pretty much uniformly, the acting is good — veteran voice actors like Grey DeLisle and Khary Payton, for example, are good in everything they do and they're great here too. I could sit and list the entire cast and I'd have nothing negative to say about any of them, and a lot of them are actors where you'd immediately say something like, "what, they got Zachary Quinto to play a robot" or something similar.
Oh, and the Mauler Twins are a standout. Just absolutely wonderfully done by Kevin Michael Richardson, who is definitely not to be missed.
I haven't even mentioned the art and animation, which are also excellent — they manage to capture much of the same feel as artists Cory Walker and Ryan Ottley, who did the art on the comic (which is not surprising, since Walker is the lead designer for the series) and it flows well, with some very expressive facial work that does a lot to give the acting power and depth.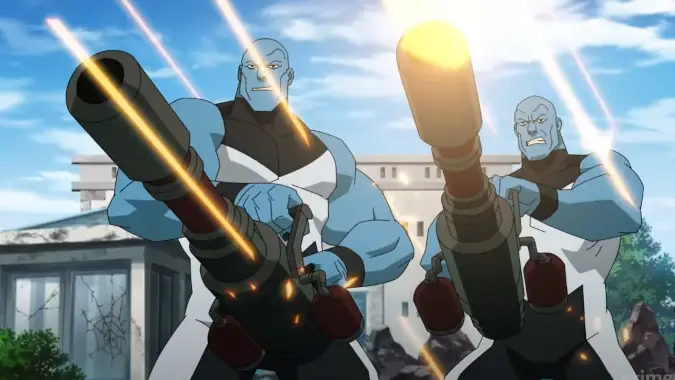 However, be warned — this is not a show for kids or the squeamish
So if I have this much to say about what I like, that must mean I'm recommending it? Well, yes, but with a couple of very large caveats.
The first is, though yes, this is an animated series about a teenage superhero, it is emphatically not aimed at kids. If you're looking for a fun MCU style romp, or even a slightly darker DCEU-esque take on the idea, look elsewhere. They call it an Adult Animated Series on the official Amazon Prime page for the series, and they are not joking. It's got a lot in common with Amazon Prime's other big superhero series, The Boys, in that way.
This series is at times shockingly violent. It presents itself as an almost note for note superhero comic book universe — there are characters and elements definitely rooted in Kirkman's expansive knowledge of the genre — but there's a clear intent to present what would happen if someone like Superman or Thor actually hit a human being. And that means that this story is unblinkingly willing to show you gore. Not just blood, not just onscreen destruction that you know would kill a lot of people — in the first episode of the show, people's heads are crushed and you see the brains, bone and blood. People are torn in half. Limbs are ripped off. Internal organs and blood shower the walls.
It's worth being very clear on this. Invincible can at times be a lot to take, and I absolutely do not recommend it if what you're looking for is fare like the current The Falcon and the Winter Soldier or other Disney+ series like Wandavision or the upcoming Loki. Those series have their adult themes — depression, PTSD and trauma among them — but at no point do you see someone tear another living being apart in a spray of viscera. Kirkman is famous for his work on horror comic The Walking Dead but Invincible isn't shying away from that level of violence, either, and you should know that going in.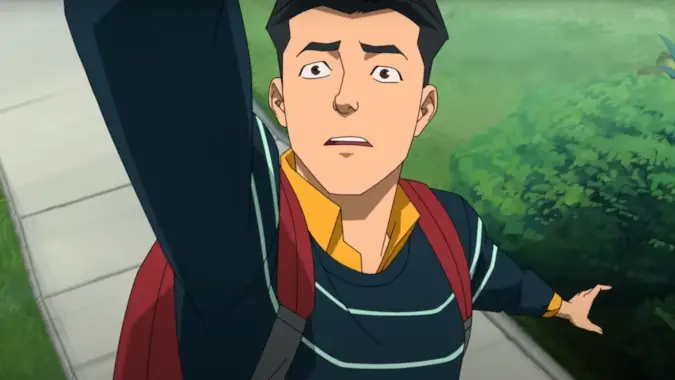 The violence threatens to derail the emotionally charged storytelling, and that's a shame
I'm aware of the fact that it's the juxtaposition between its almost stereotypically comic booky feel — the fondness for Silver Age comic book stories is evident in every charcter and the unfolding plot — and the almost horror comic levels of death and destruction that provides much of the frisson of the series. But I'm honestly not sure if it can be said to be enjoyable. For me, at least, it ultimately hasn't been. Watching Mark Grayson get beaten almost to death in episode 5 and his obvious trauma afterwards — trauma that none of his supposed friends and even his family seem to really understand, and which causes him to lose desire to be a superhero is affecting for me as a viewer, but at the same time, I grew weary of watching Mark be a pinata.
I understand that there's a reason he's called Invincible — that the story is subverting that very notion — but at the same time it feels like I'm being hammered with it. Look! At how subtly! We are subverting! This! TROPE!
At times watching Invincible feels less like watching it and more like being subjected to it. There's more explosions of body parts and fluids than I felt capable of processing. If you can get past that, there's a lot of good in this — great acting, art that works very well to support the story being told, a lot of beautiful little nods and wonderfully executed story. There are real moments of quiet power here — watching Debbie Grayson unravel, as she slowly realizes the man she loves isn't who he's been telling the world he is, it really hits all the emotional weak points for me. Watching Omni-Man destroy an invading army manages to tread the line between effective and shocking gore while still being quite watchable, a line Invincible doesn't always tread for me.
In the end, I am still watching the show as of episode 7. But it's been rough for me, and I definitely feel like this wouldn't be for everyone. It's absolutely not feel-good storytelling, and if your only exposure to superheroes is the various Marvel films, or even the often darker and more uneven DC movies, don't go into Invincible expecting more of the same. Is it a good show? Yes. But it's not for everyone — be warned up front, the show, much like the comics it's based on, is absolutely unflinchingly violent and puts its characters through a lot of pain and horror.
However, Christie Golden did get this zinger off on me on twitter, so there's that.