The Mass Effect Legendary Cache comes with a wearable helmet and cool game case, but not the actual game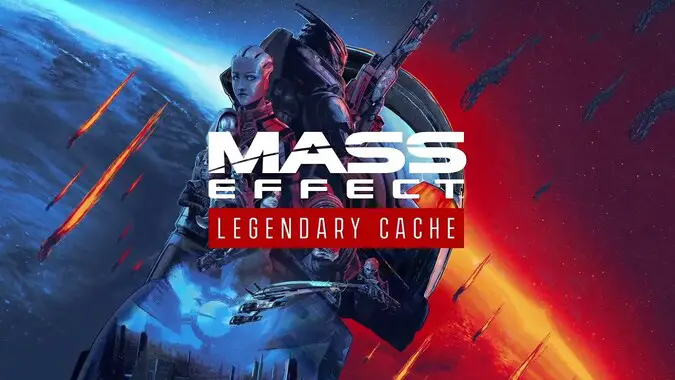 On May 14, 2021, we'll be taking a newly remastered trip around the Milky Way with Commander Shepard and crew in a last-ditch attempt to save all life in the galaxy from the Reapers in Mass Effect Legendary Edition. All three of the original games are being remastered with updated 4k graphics, faster loading times, and even more Shepard customization options across the board. They've even said that they'll be changing the user interface and the way the MAKO handles! Coming out alongside this new remaster is their Legendary Cache, a collection of collectibles for the truly die-hard fan. You can get a wearable N7 helmet, a spinning coin to help you make your Paragon or Renegade choices, and a display case for the game — just not the actual game itself.
Let that sink in for a second.
They're including a fancy metal game case for the Legendary Edition, but not the actual game that would come alongside it. In this age of digital distribution and all digital consoles, I can understand not including the discs with the Legendary Cache, but to not even include a download code? Can any collection truly call itself legendary if it doesn't contain the actual game? That would be like if limited edition sneakers came with everything but the soles!
At least Bioware is doing what they can to make sure that people know the Legendary Cache doesn't come with the game. It mentions that the game is not included in a variety of places throughout the listing, and even in multiple font colors! Let's hope that Blizzard doesn't start copying them and start selling its collectors editions without the game.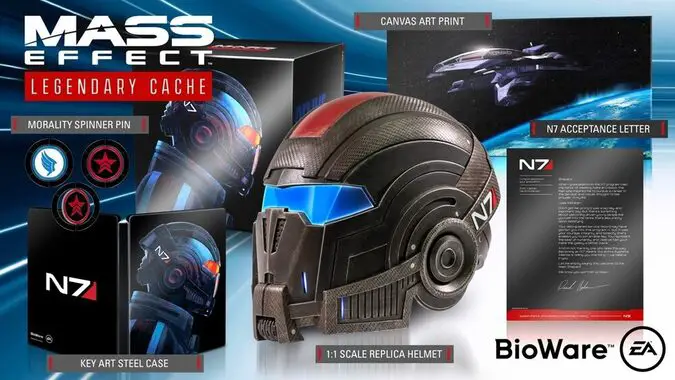 To be fair, the rest of the contents of the Legendary Cache are pretty cool. The prints look gorgeous, and I've always wanted my very own N7 helmet! It looks like Bioware has learned from other companies' mistakes when it comes to helmets too. They've put in a lot of work to make this helmet a really serious prop. It's just that, you know, no game is included.
I'm unreasonably excited to get my hands on this remaster — Mass Effect is one of my favorite series of all time! Yes, even Mass Effect: Andromeda. I love everything about it, I love the characters, the worlds they've created, I love the messy space politics, and the feeling of satisfaction you get every time you Biotic Charge across the room to blast a Krogan in the face with your shotgun. I've been feeling the itch to play through the series again, but I knew with the remasters on the way that I wanted to wait. It looks flat out gorgeous, and it can't come soon enough!
Originally published 2/2/2021. Updated 5/12/2021.