How would you write Sylvanas Windrunner's fate while pleasing the largest possible number of players?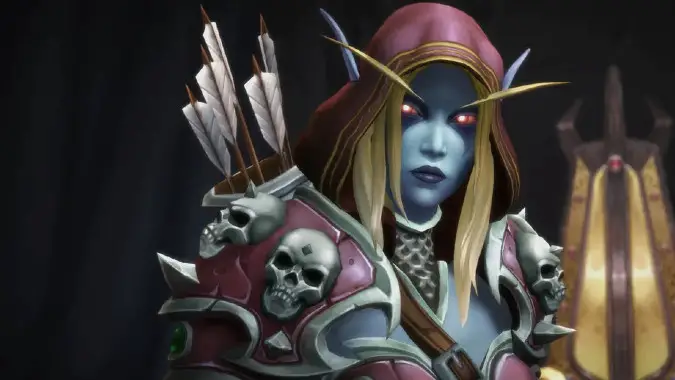 First of all: ignore how you personally feel about Sylvanas Windrunner for a moment.
Keep in mind that, whatever your opinion is about that character — whether you would gladly give your life for the Banshee Queen, or whether you can't wait to see her head on a spike — there is someone out there who thinks the exact opposite of what you do. And that person is also an avid fan who loves the World of Warcraft lore and story just as much as you do, or maybe even more.
That is the enormous problem that the members of the WoW writing team have in their hands right now — which is only natural, since we're talking about such a polarizing character. What can be done to Sylvanas that will please everyone, no matter if they love or hate her? Is such a lore development even possible? Or is it better for the WoW team not to try to please everyone; but instead, firmly pick a side, giving Sylvanas either eternal torment or glorious redemption?
Sylvanas has done a lot of terrible things. Her crimes are numerous, and horrifying. Perhaps she had a greater motivation for all of them: it's conceivable that she does, indeed, want to reshape reality into a fairer, juster place, by defying Death itself. But as the saying goes, "the road to hell is paved with good intentions." To a victim, the motivation of a crime doesn't matter. The "noble justification" is inane when you are a casualty caught in the path of "justice." What good is greater justice for everyone but you?
Simultaneously, Sylvanas has been an icon, an inspiring figure, for a huge number of players. Let's not deny it: she is freaking cool. She is strong and ruthless, she is brilliant and powerful. If you are on her side, you are more than glad to fight for her. Maybe you just want to watch the world burn, or maybe you truly believe that everything she has done has been justified — I'm not about to argue against that. You might put her in the same hall of fame as characters like Medivh, or Illidan Stormrage, or Grommash Hellscream — misunderstood and flawed, yes, but great and filled with purpose nonetheless.
So let's get back to the writing team. If you were a part of it, knowing full well that there are groups of fans absolutely passionate about Sylvanas, who are enjoying the same entertainment as other groups of fans who want nothing more than to see her get her deserved comeuppance: what would you do? How would you realistically write the conclusion to the story of Sylvanas Windrunner in a way that doesn't end up alienating a very large number of fans of the WoW story?