Events like the Community Clash League playoffs prove that Heroes esports is impossible to kill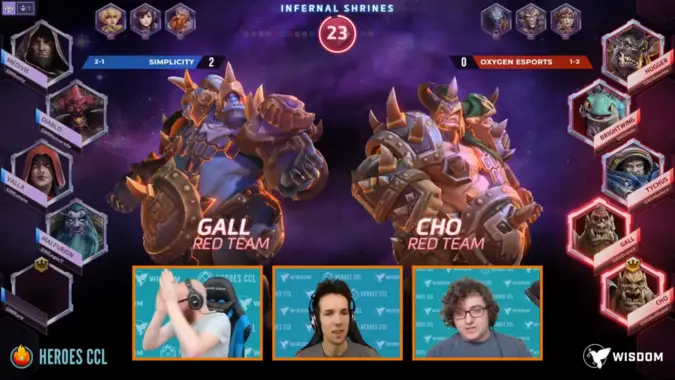 If you told me three years ago when Blizzard cancelled the HGC that I would be settling in for a weekend of some of the best played Heroes of the Storm I would be shocked. Excited definitely — but shocked. Things were looking rough for the esports scene in those early days. But the community picked themselves up and started running their own tournaments.
Now I'd say that Heroes esports is well on its way to thriving. We have the major events from organizations like Heroes Lounge, HeroesHearth, and the Nexus Gaming Series — but we also have smaller community events as well. Jazzalene puts on a match every week with Girls Gank Squad, giving women in the Heroes scene a chance to show off how great they are — and often fundraising for charity at the same time! Nexomania is an all-skill levels tournament that's being run right now giving people their first taste of organized play. There's even Heroes at the DreamHack tournament again!
There's something about Heroes and the community around it that has spoken to them and made it the game that they love. It could be the gameplay, it could be the characters in it, it could just be a way to spend time with all of their friends. Whatever it is though, they're still playing and running events because they want to spend their time in the Nexus.
One organization has stood out in my mind as leading the way for top-quality content and a great community. HeroesHearth Entertainment has run more than a few different tournament variations before hitting the current incarnation. From the more casual Fight Night's king of the hill set up where the winning team stayed on for another week, to the Celebrity Clash League where four teams of streamers and personalities from Heroes heyday competed. The Celebrity Clash has since turned into the Community Clash, and expanded into eight teams competing over 15 weeks. Complete with organized player drafts, and awards show — the first season saw thousands of people tuning in each week to watch all of the lightning-paced action.
With the CCL we've gotten an event that's as good as anything that we saw during the HGC. HeroesHearth has shown that they're willing to do the hard work and make something that's enduring. All of their previous events have shown that they understand what makes Heroes great. Everybody involved is passionate about the game and it shows in the work they do for it. I can't wait to see what they do next.
Heroes esports is dead — long live Heroes esports!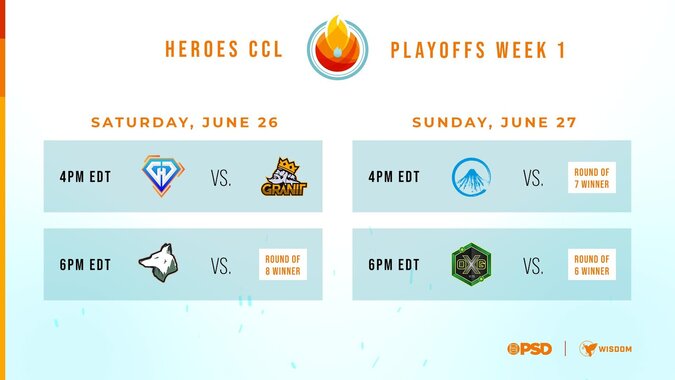 It's playoff time!
Now the Community Clash League from HeroesHearth is entering into its second season playoffs this weekend. Over the next few weeks, eight teams will be playing their hardest for the lion's share of the prize pool. Right now that prize pool is just over $13,000 but since it is a crowdfunded prize pool, by the end of the event it'll be much higher. The first season of CCL wound up with a final prize pool of $21,630 so I'd be surprised if this current season doesn't at least reach that amount too.
The last seven weeks of games that lead us to this moment have been amazing. Reverse sweeps, Nexus Cores at 1%, the large lad Cho'gall — they've had them all! We've seen teams like WildHeart Esports and Chilly Mountain play some of the wildest drafts, playing combinations of heroes that shouldn't work but somehow they pull it off. But as we go into these playoffs the big matchup will be Simplicity vs Storm Esports. Simplicity has the most wins, in fact only losing one series to WildHeart Esports over the course of the regular season. Will they go all the way to the grand finals? Will we see an upset from one of the other teams? I can't wait to find out!
A big part of what makes these games so exciting is that they have such amazing commentators. Grubby and Bahamut have a ton of experience and skill between them. Grubby has been involved with the professional Heroes scene since the HGC days, and Bahamut has done casting for Heroes Lounge, Heroes Hype, Nexus Gaming Series, and many more!  Together they have an easy chemistry that makes every match an event. In a recent match between STORM Esports and 30K when STORM player Qepi managed to complete the Tychus questing talent Master Assassin. The talent requires 15 kills to finish, which doesn't always happen in pro matches because of the skill involved on both sides. Qepi got the fifteenth stack as the game was ending and both Grubby and Bahamut went hog wild!
If you're wanting to watch the action the games will be kicking off on HeroesHearth's Twitch channel Saturday, June 26 at 4 PM EDT. I hope I'll see you there!