WoW
Jul 13, 2021 11:45 am CT
Sanctum of Domination Race to World First: The Eye of the Jailer has been blinded!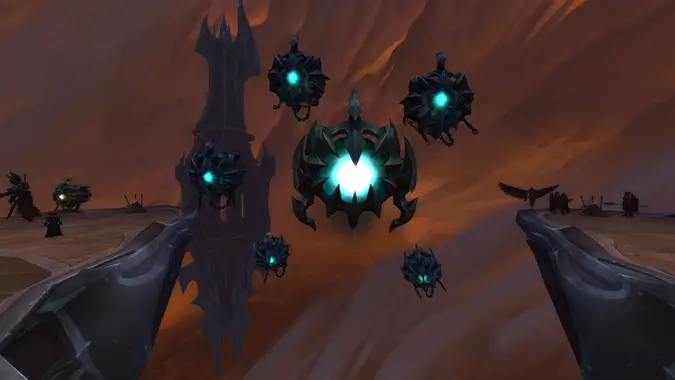 The fearsome Tarragrue is behind us in the Race to World First, so it's time to go further into the Sanctum of Domination and take on the Eye of the Jailer. This formidable eyeball has kept us under the Jailer's power for too long and it's finally time to give it the poking it deserves. No longer will we live in fear of being constantly watched while in the Maw, because Soniqs Imperative has taken the World First Eye of the Jailer kill.
Soniqs Imperative are continuing their early kills in Sanctum of Domination with their World First kill of the Eye of the Jailer! This titanic eyeball has been blinded in the time it's taken Complexity-Limit to reach just the Tarragrue. How long can Soniqs Imperative keep up this break-neck pace through the raid, and at what point does the extra power that Complexity-Limit got at before starting raiding today start to win out?
In this fight, Mythic raiders have to be careful while dealing with this eagle-eyed boss as every 33% it'll unleash a pair of smaller versions of itself to keep its eye on the raid. These Deathseeker Eyes will give half of the raid the Scorn debuff and the other half of the raid the Ire debuff. If a player who is Scorned touches a player who has Ire they'll explode and deal massive raid-wide damage. Guilds who've defeated Mythic Sire Denathrius have had practice not crossing two different debuffs recently with his final phase mirrored raid — but this will still likely be a tough thing to deal with as the room is gradually covered in spreading pools of Misery. These eyes will have to die within eight seconds of each other as well or the raid will also take a big hit of damage. After dealing with three pairs of Deathseeker Eyes, the Eye of the Jailer will enrage and guilds will have to work quickly to deal with it before being overwhelmed.
Previous fight: The Tarragrue — Sanctum of Domination Hub — Next fight: The Nine
Eye of the Jailer Standings
The Race to World First is now well underway! Many guilds from around the world will be streaming their attempts to be the first in the world to defeat Sylvanas on Mythic difficulty. Will Limit reign supreme for the third raid in a row, or will they be dethroned by Echo? We have more information about who is streaming, how you can watch them, and how far into the raid they are here on Blizzard Watch.