What's your favorite Jailer fan theory?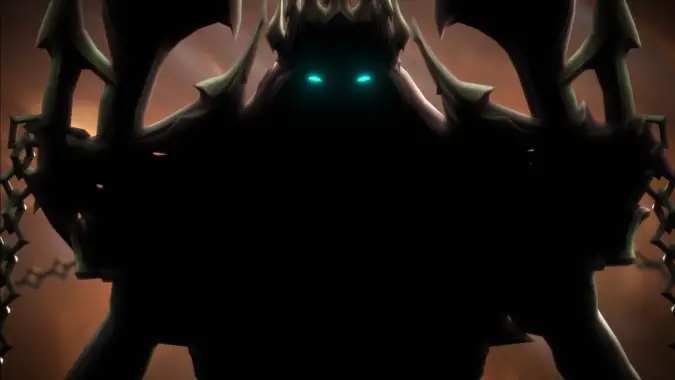 I guess I should spoiler tag this post, huh? Yeah, okay, that's fair. Spoilers for patch 9.1 and the Jailer and Sylvanas and all of that stuff, y'all. Spoilers. They be coming. Run while you can.
So I had this theory after watching the final cinematic from the Sanctum of Domination. Watching as the Jailer yanks out the Arbiter's chest ball and sticks it in his own chest reveals several things — that clearly the Arbiter somehow was a part of Zovaal all along, that Zovaal used to be the one running this whole show before the other Eternal Ones stuck him in the Maw, and now that he's got the Arbiter's essence/the Final Key, he's free to go somewhere and do something bad.
What interests me is how much Zovaal's restored armor looks like the Drust we see in Ardenweald, and for that matter, like the Ardenweald armor set seen in the header image to this post. Why is that? Why would Zovaal's death armor look so much like both a Maldraxxi and an Ardenweald armor? Is it because Zovaal once ruled over all the Shadowlands, perhaps before they were separate realms but one place, the remnants of which are the Maw and Oribos? Do the Drust resemble Zovaal because Zovaal made a deal with them to help them create Thros, perhaps with Helya's aid as she created her own death realm of Helheim? We know the Drust are related to the Vrykul and that Helya sought to usurp Odyn's control of the Vrykul as revenge for his having forced Helya to become a Val'kyr, which he only learned how to do by trading his eye to the Jailer.
That would potentially allow the Jailer to claim the Drust themselves, or manipulate their loyalties. Odyn may have given up far more than he realized when he made that deal with Zovaal. Zovaal, who knew how to make Kyrian-like beings, who may have empowered the Drust, who clearly has links to Ardenweald and the Heart of the Forest in his very armor design.
So yeah, that's my favorite fan theory. You got any you'd like to share?