Yes, Blizzard probably will ship patch 9.2 and everything else later now — and that's for the better
I think I realized when Jeff Hamilton posted this to Twitter that a lot of people would misunderstand it.
I don't know what to do. I don't have all the answers. I can tell you, almost no work is being done on World of Warcraft right now while this obscenity plays out. And that benefits nobody – not the players, not the developers, not the shareholders.

— Jeff Hamilton 💙 (@JeffAHamilton) July 25, 2021
But to me, I think it's very important to understand it. It's important to understand that not only has the recent lawsuit against Activision-Blizzard torn the scales from a lot of people's eyes about toxic workplace culture, but it's done so in a way that has led the company itself to inflict more trauma upon the very people who make their games for them.
Content warning: The links below discuss sexual assault and harassment.
And that is just adding an even more intolerable, awful situation on the back of an already intolerable, awful situation, and one that didn't have to get this bad. It's bad enough that so many people were harassed and abused in the first place. It's worse that many fled the company, some even fleeing the very notion of a career in game development. It was awful when Ubisoft allowed 25% of their employees to witness or be the targets of such misconduct, and we've all heard about the continuing problems at Riot Games, from 2018 to this year when the CEO was sued for sexual harassment and gender inequality in hiring. But what makes the Activision-Blizzard scandal all the worse is twofold — one, that they're now forcing their employees to witness a campaign of dissembling so egregious that multiple people who work there have felt the need to decry it. Ex-employees too.
I could literally just make this post be links to current and former Blizzard employees taking Fran Townsend's email as negatively, and in public no less, as anything I've ever seen. This is almost Storm the Barricades levels of internal revolt against a corporate stance.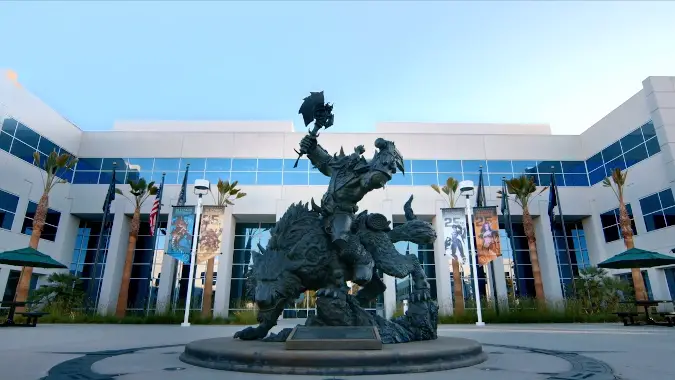 The entire industry must change
So yes, it's true — basically all work on World of Warcraft, and probably on other games like Diablo 4, Overwatch 2, and really anything else has likely stopped. It's almost impossible to work under these conditions — not only the already terrible ones we've discovered, but then to witness people utterly disregard them to the degree that it sparks an open revolt among the people who make the games.
And quite frankly? Good.
It's my opinion that I can do nothing less than support the creators, the makers, the designers and testers who make these games that have given me so much in my life, and did so working under some of the worst conditions possible, as they speak out against the workplace culture that inculcated and encouraged this abuse. I've always approached writing about Blizzard from an outsider's perspective — frankly somewhat ironic considering the site I started covering these stories from — but I always wanted to work there. I wanted to be a part of helping to shape one of the games that have made so much positive difference in my life. My wife, my eyesight, a great many personal and professional friendships, the support of the community of players — all of these things came out of writing about Blizzard.
All I can do now, and I believe we must do, is support the people who were abused, harassed, hurt by this culture. We must interrogate our own blind spots and behaviors, find anything in us that might contribute to this, and rip it out by the roots. We must have the backs of the people who have given us these games — not the people at the top who did not stop these abuses, and certainly not those who actually committed them, no matter who they were, but the people who somehow managed to make amazing games for us despite them.
And if that means we don't get Diablo 4 as soon? If that means patch 9.2 ships a few months later?
Then that's what happens. This situation, this culture needs to change, and we have to support the people fighting to end it, and help them as much as we are able. It simply isn't important that we will be inconvenienced. It is the least we can do to bear that inconvenience. It is far, far less than what they have endured.