When is Diablo Immortal coming out? The game has been delayed until 2022
Click here for more photos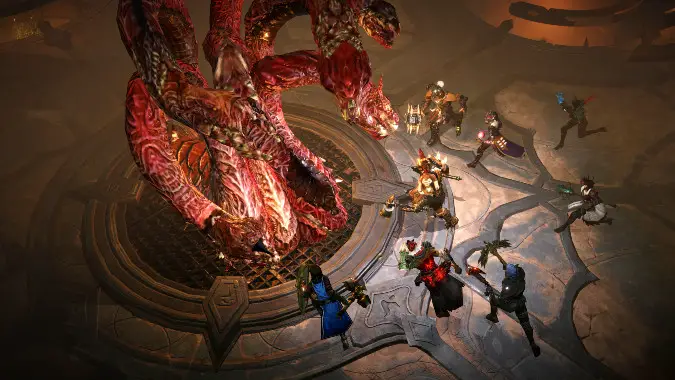 Following extensive feedback from their alpha testing, the developers of Diablo Immortal have decided to delay the game. We no longer know exactly when the game will be out, but the Diablo Immortal release date will be in the first half of 2022. Game Director Wyatt Cheng has explained that this change should allow them to "take some extra time to make the game great." It's a disappointment for anyone looking forward to the game — the team really enjoyed it when we had a chance to play it at BlizzCon back in 2018 and 2019 — but better to get the game right than rush it.
We are getting one good addition with this increased development: controller support is coming. This was a common request — Diablo 3 already plays great with a controller —  but the team previously stated it wouldn't ready on launch. But beyond that, it sounds like a great many features will be revisited and improved based on player feedback from testing.
For example, we're iterating on PvP content like the Cycle of Strife to make it more accessible, alongside late-game PvE content like the Helliquary to make it more engaging.
There are a lot of features the team is focusing this extra polish time on. One of those is the Helliquary system, which are basically PVE raids designed for groups of 8 players fighting powerful bosses. The Bounties system — which Diablo 3 players will certainly be more than familiar with — is also being adjusted, to be made "more engaging and fruitful." In one specific example, they mention a significant quality of life improvement: if a player accepts four Bounties, those will all be in the same zone.
Challenge Rifts — another very popular feature from Diablo 3 — will now reward new upgrade materials that should be exclusive to this mode, and only to its highest difficulty levels. The intent seems to be to reward players who tackle those challenges "the most," which implies that those high level Rifts could become the highest echelon of difficulty in the whole game.
PVP additions and improvements were also mentioned. The Battleground system, which was introduced in the closed alpha, will be enhanced with better matchmaking, rankings, balance, and more. Furthermore, another PVP mode, called the Cycle of Strife, which features faction-based battles, will also be optimized — including even a "PVPVE" raid feature.
The team has also dedicated some time to disclose how they plan to make top tier and legendary gear "exciting and sought after, especially for players who've surpassed max level on their character(s)." And their solution is also not exactly something brand-new, but rather, another tried-and-true feature from Diablo 3: a Paragon system. We knew this was coming, but the team is continuing to improve the system, which will also allow players to take on even higher difficulties of challenges, for even greater rewards.
And finally, they're also replacing their "weekly XP cap" system with a global XP cap that will increase over time, in order to make it less punishing. They're also introducing bonus XP gains for players who play less often — which sounds like the rested XP system from World of Warcraft, and is probably a good idea.
All in all, it seems like the Diablo Immortal team is doing another pass on some of the game's biggest features to make sure it's as engaging and accessible as possible — and that's a good thing. You can read up on all the details in the team's post about the delay.
Originally published 9/15/2020, updated 8/3/2021