Sword-smooching indie game Boyfriend Dungeon just launched today, and this better not awaken anything in me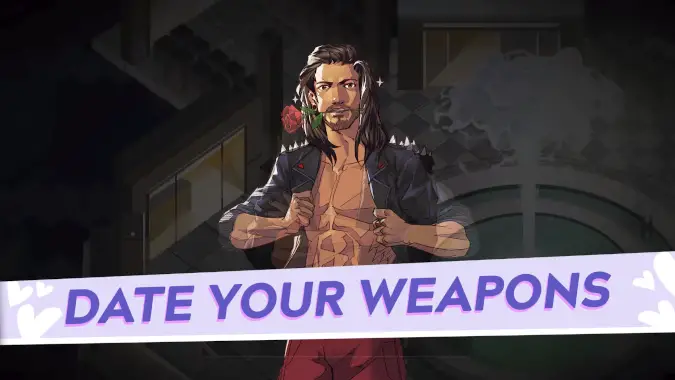 Kitfox Games made a surprise announcement earlier today when they said their innovative upcoming game Boyfriend Dungeon is releasing today. Seriously, right now. Well, at the time, it was about a half hour from then, but regardless, you can play Boyfriend Dungeon right now. If you're not into boyfriends, that's okay — the boyfriends are actually boys that transform into swords you can use in combat. They then can transform back into boys, which you can then strike up a romance with.
We acknowledge that this sounds like one of those games which you might want to only look at in Incognito Mode, but it's actually pretty wholesome. You use the boyfriends-slash-swords to hack and slash your way through a dungeon in a way that looks somewhat reminiscent of another staff favorite, Hades. It's just that instead of gradually getting to know and romance a pantheon of Greek Gods and Goddess while also slowly leveling up a variety of weapons, you're cutting out the middle man. Just romance the sword you're using to stab… what looks like martinis, in one part of the promo reel?
💕✨It's time to SMOOCH! Boyfriend Dungeon is OUT NOW💕✨

🖤Steam: https://t.co/unEEt9J0Sd
❤Nintendo: https://t.co/CD6CWlaLjU
💜itchio: https://t.co/zCcnLcLjvz
💚Xbox: https://t.co/7IEZ1xBo8e
🧡Epic: https://t.co/ocgnk1z4Pn pic.twitter.com/NkMnsh8bjW

— Kitfox Games 🦊 BOYFRIEND DUNGEON OUT NOW (@KitfoxGames) August 11, 2021
If boys aren't your general preference, the game has multiple characters-slash-swords to smooch, including women and non-binary individuals. There's also a cat. The cat is also a sword. I must emphasize that you don't get to smooch the cat — not to yuck your yum or anything. You can reach the max "love" stat with the cat — or any of the other weapons — in a platonic relationship, so even if smooching isn't your thing, this game still has your back. Furthermore, if none of the above is your cup of tea but you have something in mind that is, there's already basic support in place to mod the game and switch weapon appearances.
While all of the above is definitely a reason to try it out — the gameplay or romance elements on their own are compelling, if not unique — the combination of these elements is a very interesting step narratively. It plays both to the buddy cop trope, since you're doing battle together, and the trope that accompanies any bad boy romance story. You'd better be careful with your emotions around these boys, because they're so dangerous they could cut out your heart — literally, because they're swords. It also raises some interesting, more philosophical questions about the nature of relationships, both in real life and in games. For instance, are you objectifying the boy you're trying to date if, halfway through the date, you have to turn him into a literal object in order to do battle?
But mostly, I'm just excited to smooch a whole bunch of swords. Like I said, don't yuck my yum.