What should bad luck protection look like in World of Warcraft?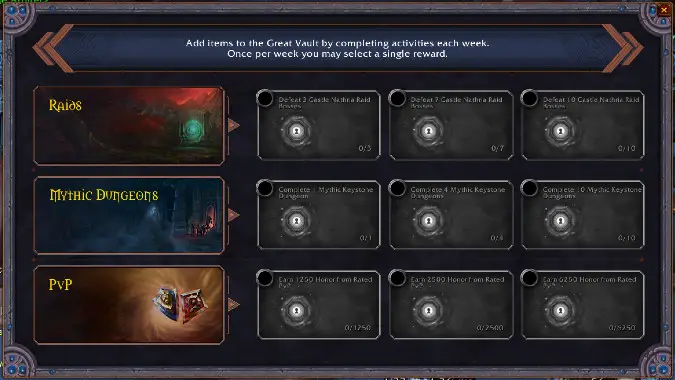 I don't believe it's a secret that I never really liked the Great Vault system we got in Shadowlands. It never seemed to do anything as far as actually protecting me from bad luck — no gear I ever needed dropped, and I got tired of disenchanting or vendoring the same set of shoulders week in, week out. But I would be lying if I said its predecessor, the various coin reroll systems we started getting in Mists of Pandaria, really were any better. I mean, it was by design extremely random, it lacked the Vault's ability to offer more options the more content you cleared, and I routinely got the same item. And that was when the system deigned to give me anything at all besides gold or Artifact Power/Azerite.
I honestly wish they'd go back to putting gear on vendors and letting us collect currency from dungeons and raids to buy said gear. Was it always the best system, or the best gear? No, but at least I knew that if all else failed, I could get something for the slot in question and it would be decent enough. The Isle of Quel'Danas/Sunwell iteration even had good, solid weapon choices and they were even decent looking. I sometimes break out those colorful fist weapons just because I like the aesthetic.
So I guess that is what I'd like to see — a simple system, one where you get currency from doing something and get to spend it getting gear and it's not full of second or third steps and randomness so that you never actually accomplish anything and just feel like you're circling the drain. Not that I'm bitter. I mean, I am bitter, but still, I really feel like the intentions are good but the execution is a bit too focused on systems emulating the RNG of actual loot drops and not enough on the part where it compensates us for that RNG. I want bad luck protection to actually protect me from bad luck.
What do you guys think? What kind of system would you want to see, or would you rather they just scrap the whole idea?