D&D
Nov 15, 2021 2:00 pm CT
How to tame your mimic for fun and zero profit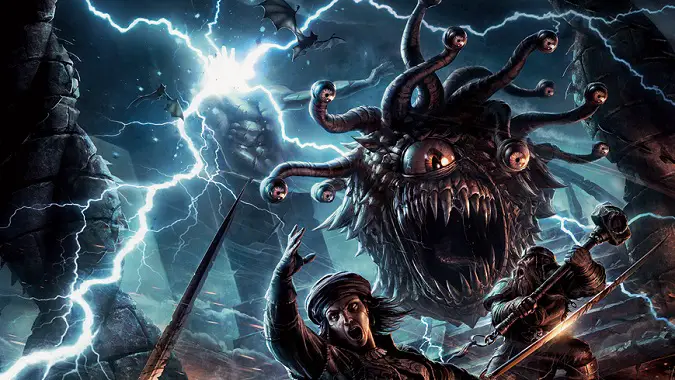 Everybody in the D&D world loves mimics, right? I mean, who wouldn't? They hide in the corner under the guise of your favorite teddy bear and then… chomp! Goodbye, hand. Another fantastic prank at the… uh… not-hands of the lovable mimic.
But have you ever wanted to adopt a mimic as your very own? Just follow this entirely serious guide and soon you'll have your very own shapeshifting buddy to keep away from your body parts and loved ones and loot and small animals — and big animals too just to be safe.
Note: Blizzard Watch is not responsible for any harm that comes to player characters from following this entirely satirical guide. Please do not send us angry emails.
Step 1: Find a mimic in the wild. They're clearly everywhere: concealed as a chest, disguised as a door, or emulating your escritoire. If you can't find a mimic despite your well-furnished quarters, assume your DM is holding out on you and poke absolutely every inanimate object with an investigation roll. After all, a motionless mimic is basically indistinguishable from a normal object. Or, you know, maybe it's dead.
Step 2: Make friends. Mimics are very bitey, hungry little critters, and many of them are food motivated. Why else would they eat adventuring parties? In order to have the best chance to tame your new buddy, make sure to bring a snackrifice, like some porridge or your bard. Maybe next time they'll think twice before trying to seduce that dragon — if there were more left to them than an old pair of boots, of course.
Step 3: Put a ring on it. Except in this case, you want a leash, to better control your occasionally fuzzy friend. Luckily, every adventurer's pack has a rope! Tie it around the mimic's most important-looking pseudopod. Just wing it, but remember to watch out for its adhesive! Otherwise, you may become Step 2's snackrifice.
Step 4: Get ready for a lot of walking. I can't imagine any animal would want a mimic on its back, and if you put your mimic in a cart, say goodbye to your party. Your new buddy is going to have to live in your backpack. Don't freak out if the mimic wraps a pseudopod around your neck, it's just giving you a hug! Now stop struggling.
And when all else fails… blame your DM. After all, this is technically their fault for putting the mimic in your path. Happy Hunting!