The Queue: btw, THIS-IS-A-QUEUE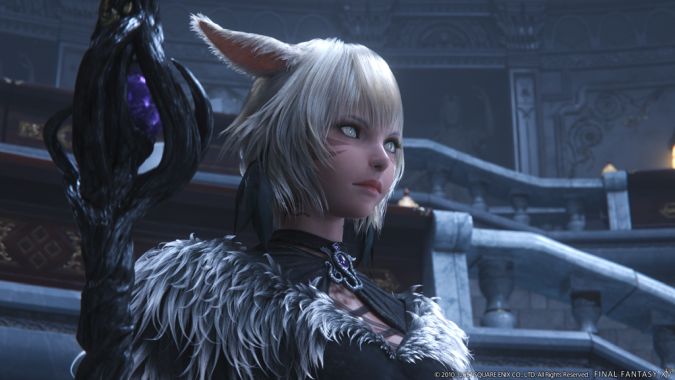 I'll be honest, I don't quite understand where this one came from — but that won't stop me from using it in a Queue title! (Unless it's, like, actually mean-spirited or something.)
Anyhow, it's Thursday and we're here to Queue what we Queue best: The Queue.
---
FUZZYBUNNY HAS QUESTIONS ABOUT THAT ONE MERGER THING:
Q4tQ: Am I naive to believe that the sub price won't be raised in consideration of the acquisition by Microsoft?
Honestly? Not at all. In fact, my expectation is that WoW will come to Xbox and Game Pass and the sub will be automatically rolled into that monthly fee. I mean, sure, you could continue charging the same people the same fee you've been charging them for a decade and a half… or you could bring in an entirely new audience, introduce your existing audience to your huge library of games, and keep the cost for all of that exactly the same.
---
LEFTY ASKS ABOUT THINGS I LOVE AND THINGS I LOVE LESS:
We all know who your favorite Old God is.
Which is your least favorite, and why?
Honestly, G'huun is the first to come to mind, but I feel kinda bad about that. G'huun was something the Titans effectively brought on themselves/Azeroth because they were willing to push experiments too far, and then they decided to lock G'huun up in the hopes that nothing bad would ever happen again.
And then we had to go in and clean up their h*cked up mess.
So while G'huun is still probably my least favorite just by nature of not really having the same vibe as the other Old Gods, I do have a soft spot it. After all, G'huun really does try its hardest.
---
ROXXII THE ASCENDED READS MY TWEETS. OR SOME OF THEM AT LEAST:
I'm going to be playing Horizon Forbidden West and Elden Ring until I can't stay awake, and then I'm going to do that all over again when I wake up.
Also probably will clean/sort things in the house and try to knock off some to-dos that will make my life less stressful. It's kinda like the real-life equivalent of a gaming backlog — not finishing these to-dos is okay, but finishing them still feels really nice and gives me peace of mind.
---
RED AND MYTHRIAK ALSO WANTED TO KNOW ABOUT THAT MERGER THING:
Red: Q4Mitch: do you think there's any real chance of the WoW sub ever being included in the Game Pass, even if they have to create a higher, more expensive Game Pass tier for it?
What do you think happens to the Battle.net launcher? Do they add other Microsoft games to it? Does it remain as it is now? Do they add Blizzard games to some other platform?
Mythriak: Q4tQ: Do you think the buying of Activision/Blizzard by Microsoft will mark the end of Battle.Net?
Well, my first answer addresses part of this, though I admittedly hadn't considered different tiers of Game Pass subs. All the same, I don't think they'd do that.
As for BattleNet? Oof, I don't really know. Microsoft has a soft history of letting studios continue to do their thing, but ATVI is a different, much larger beast. I'm sure Microsoft would love to move it all to one platform — and that may happen eventually — but it'll depend on how easy it is to take the BNet infrastructure and make it work within Microsoft's systems.
I don't think it'll happen right away, but this is honestly just one of those "wait and see" things for me. I'm not really knowledgeable enough to give anything beyond pure speculation.
---
RETPALLYJIL HAS SEEN VAGUE SPOILERS:
Q4tQ: I've avoided as many spoilers as I can, so – without spoilers – how do you generally feel about the PTR stuff storywise?
I've also been avoiding spoilers because, quite frankly, I hate feeling like I know everything about a patch half a year before it's even out. I end up playing through quests and storylines feeling like I've done things before, even though I haven't. It kinda takes away the excitement of discovering what's ahead.
Of course, this being part of my job and all, I do see a fair bit still — lately just big-picture stuff and less "this one datamined line of dialog" — and based on those? I just want Shadowlands to be over.
Cap this story — all of it, ideally, not JUST what happens to Sylvanas — as neatly as feasibly possible, then shift us in an entirely new direction and let this entire years-long point of contention for literally the entire community end. It doesn't help that more and more alleged inside sources keep saying that That One Jerkhole intentionally ruined Sylvanas out of spite, but even if that's completely untrue, I'm still so tired of what this storyline is doing to the community.
And that's pretty sad, to tell the truth. I love Sylvanas. I love the game lore. I love what writers like Christie Golden can do with her character.  But everything else around it has poisoned this story to the point where I don't care whether I like or dislike the plot — I just want to move on and start something new that we can all be excited about.
---
MISTAH JAY [A REAL MOD] IS STILL NOT A REAL MOD:
did you see the entirety of AGDQ yet? as i'm writing this, i'm watching meegah mem 2 and OH JESUS CHRIST WHAT THE HELL
I have not seen the entirety of it, but I have seen a whole lot. I caught the very end of Meegah Mem 2, though, and oh my Yogg, games like this are one of the many, many reasons I love GDQ.
That's our Queue for today! I hope you all have a fantastic weekend, and be sure to leave lots of questions that aren't just about Sylvanas for tomorrow's Mystery Writer™. Cheers!