Tavern Watch Plays Weirs 00: Introducing our new homebrew D&D campaign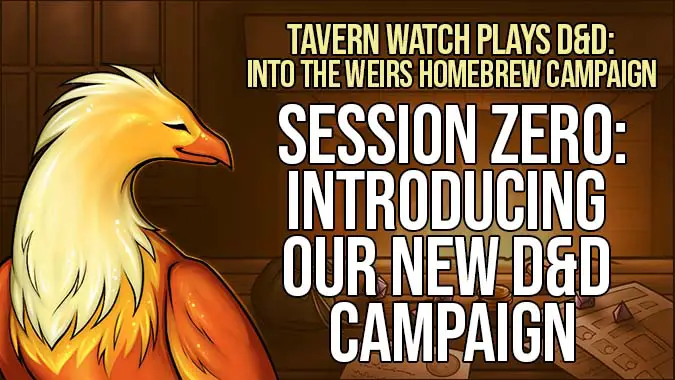 Tavern Watch kicks off a new monthly D&D play session podcast, "Into the Weirs"! 
Our game is set in the Weirs, a trading town on the River Danae. But dams along the river have led to rapid industrialization and growth, and this small town is struggling to hold its own against beasts and nature spirits that have been displaced by the town's growth; avaricious eyes keen on getting their share of the town's newfound wealth; rumors of restless dead in the ruins of the Cenotaph Gardens; dragons roaming the Skyhome Mountains; and the ever-present threat of the Goranth Empire to the east.
Matt Rossi and Joe Perez will co-DM this game set in an original homebrew world. Elizabeth Harper, Anne Stickney, and Andrew Powers join as players, plus Joe or Matt depending on who's DMing.
In this "Session Zero" for our new campaign, we discuss our new game world, the kind of gameplay everyone wants to see, and explore some world building — plus, why all games should have a "session zero."
So pull up a seat and join us! You can listen to the podcast directly from this post or click on download icon in the upper right corner of the player below to listen on your own device.
Keep up on all the new episodes as they air with the podcast playlist below.
Questions, topic suggestions, feedback? Email us at [email protected].
If you'd like to catch up on previous Blizzard Watch podcasts, our weekly Lore Watch podcast, our monthly Tavern Watch podcast, or our other on-going Dungeons & Dragons podcast, check out our podcast page. You can also search for any of these programs in your favorite podcast player to subscribe and be notified when a new one is released.
And finally, if you subscribe to our Patreon Tier 2 or above you will not only get the uncut version of the Blizzard Watch and Tavern Watch podcast with a bonus 30 minute pre-show, but you will also be able to listen to the Blizzard Watch and Lore Watch podcasts before they are released to the public.
Thanks for your support and enjoy the show!