The Legend of Vox Machina is impressive and entertaining, but occasionally uneven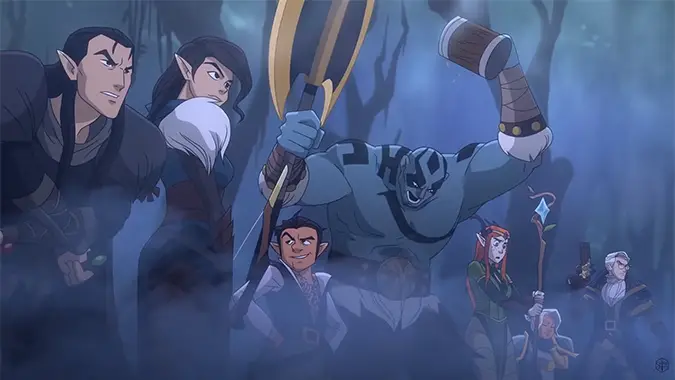 I was pretty excited for The Legend of Vox Machina back when the Kickstarter broke records and went from a single animated show to a series, but I will admit to some trepidation as well. Any adaptation of a story into a new medium carries risk, simply because different storytelling mediums have their own constraints. A novel is limited in ways television is not, and is also free in ways television is not — there's never a need to worry about a VFX budget when writing a story designed for text. It's not often a D&D campaign gets adapted to the animated format — there was a Dungeons and Dragons cartoon, of course, but it wasn't a literal adaptation of someone's game. I'm not sure it's ever been done before, and if it has, it certainly hasn't been done at this scale.
So having finally sat down and watched all 12 episodes of the show — to date, anyway, as there are more coming with Season 2 already confirmed — I thought I'd talk about how the adaptation process changed some things and preserved others. I think it's safe to say there are some pacing issues — the first storyline feels like it goes an episode too long, and it's only two episodes — but with the Briarwood arc the show finds its footing, thanks in part to some excellent acting not just by the principal cast. Grey DeLisle Griffin as Delilah Briarwood is a standout performance, as is Kelly Hu as Anna Ripley.
Indeed, the assembled voices for this show are by and large fantastic. Again, it's not surprising that the main cast plays their parts well — they originated these characters, after all. But seeing Sovereign Uriel and hearing Khary Payton's voice, or Stephen Root's fantastically creepy Professor Anders, this is where the show really exceeds the limitations of a streamed TTRPG game. As good a voice actor as Matt Mercer is — and he's phenomenally good, as he demonstrates in his varied roles such as Sylas Briarwood and Orthax — having very different voices come out of these characters helps set them in the story far more effectively. And it's really trippy to hear David Tennant's voice coming out of Brimscythe. I'm still not sure how I feel about that. Has David Tennant played a Dragon before? He's very good at it. Almost too good at it.
There have been changes to the narrative. For starters, the initial two part episode that opens the series was never actually streamed — it's from the original home game they played before Critical Role was a thing. It's not a surprise that changes were made to that storyline from the brief recap that they posted on their site years later. I'm actually a bit surprised at how faithful they're being to the original material, considering it was all improv because that's how D&D games roll. The animation is as excellent as you'd expect from Titmouse, the character designs by Phil Bourassa are near perfect, so ultimately there's very little to complain about there — but it is weird to see these characters not through the lens of fan art and people playing pretend on a live stream, the way I saw them first.
But not everything about the series is completely stellar. Not all the jokes land — up until about episode 4, it feels like Scanlan is trying way too hard. But after that, it gets a lot better, possibly because that gallows humor feeling makes it seem more desperate. The story gets so much stronger during the Briarwood arc as it focuses on Percy's past, and the Briarwoods themselves in Episodes 8 and 9 are just astonishingly good. I feel bad that I haven't singled out each actor in the show, because all of them — original CR cast and the new additions — have moments of real excellence.
There were some pacing issues — the opening two parter just kind of drags at times, at least in my opinion. While I very much liked the Briarwood arc, I did feel like certain moments were better unscripted — the first time, when Scanlan threw Percy's gun in the acid, it was a legitimate shocker. This time, I knew what was going to happen, which is always the danger in an adaptation of a work you've already experienced.
Considering how tricky adaptation is, this was a really interesting and very successful first season, and I expect Season 2 will be stronger as it starts right out of the gate with the Chroma Conclave arc. And you needed that opening with Brimscythe to set that up, so while I would have liked it to be shorter, it does serve an overall narrative purpose.
In the end, it was just an entertaining animated series, whether or not you're familiar with the source. In fact, it might be better to watch this than as your introduction to that original Critical Role campaign than it would be to watch the original streams. For one thing, it's a lot quicker.