When is the WoW Dragonflight patch 10.1 release date?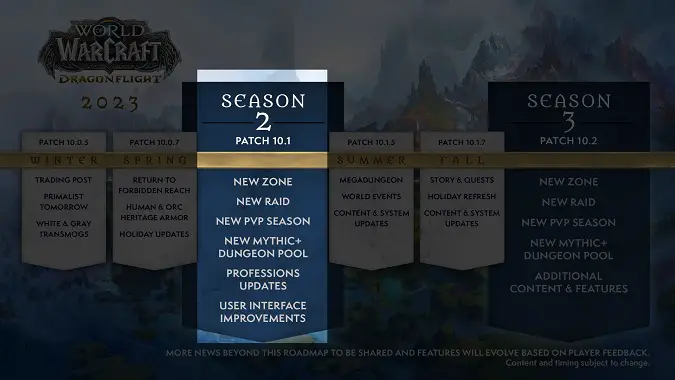 The World of Warcraft development team has announced an ambitious patch plan for Dragonflight in 2023, with patch 10.1 "Embers of Neltharion" the third of six patches scheduled to go live before the end of the year. With patch 10.0.5 released on January 24 and patch 10.0.7 arriving on March 21 and the PTR starting up we can start to get a sense of when it'll be released. While the patch schedule doesn't even give us a season that patch 10.1 could arrive, it seems likely that the Embers of Neltharion will go live the week of May 29.
Patch 10.1 is the first major patch of Dragonflight and will mark the beginning of Season Two, bringing with it a new raid, a new zone for questing, changes to the Mythic+ dungeon pool, and the start of a new PVP Season and the opportunity to earn its associated rewards. In addition, patch 10.1 will be bringing Cross-Faction Guilds, some updates to the new Profession system as well as more tweaks to the User Interface
The key determiner of the release date will be the amount of time on the PTR for each patch; even with patch 10.1 deploying to the PTR before patch 10.0.7 goes live it should still take 7-9 weeks of testing, maybe even longer since it's a major patch. In addition we should expect each season to last roughly six months as that matches the desired expansion release cadence of every two years (with the underlying expectation that there will be four seasons, with the fourth season a "fated" season like in Shadowlands).
Patch 10.1 is hitting the PTR shortly before patch 10.0.7 goes live. Unlike the other patches on the roadmap there is no season designated for the arrival of the patch, but with patch 10.0.7 coming on March 21 and a likely minimum of two months of PTR a prediction of late May — perhaps the week of May 29 — shouldn't be far off. This would also be six months after the release of Dragonflight keeping the Season cadence operating as expected. It is possible that Cross-Faction Guilds will throw a wrinkle into the proceedings, though, so a test cycle that stretches into June isn't out of the realm of possibility.
Originally published December 27, 2022. Updated March 8.