WoW
Mar 8, 2023 10:01 am CT
When is the WoW Dragonflight patch 10.0.7 release date? March 21!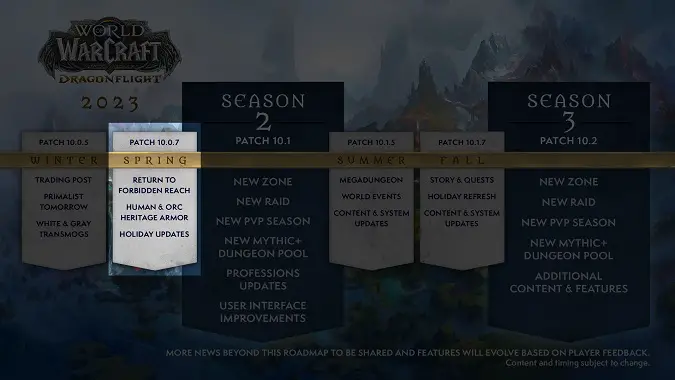 The World of Warcraft development team has announced an ambitious patch plan for Dragonflight in 2023, with patch 10.0.7 the second of six patches scheduled to go live before the end of the year and the final patch of Season One. Patch 10.0.7 is now live on the PTR, which neatly lines it up for a spring release date — literally, as it is going live the week of the vernal equinox with a March 21 date for NA servers and a March 22 date for EU servers.
Patch 10.0.7 is the first of the new X.X.7 patches in Dragonflight. Similar to the X.X.5 patches from prior expansions, these smaller updates will provide new questing and story content for players, with the primary focus being the return to the Forbidden Reach. A new feature in the zone are the Zskera Vaults — repeatable content similar to the Treasure Trove in Mists of Pandaria — and there will be improvements to Dragonriding with new glyphs unlocking the ability to brake in mid-air.
In addition, patch 10.0.7 will add the heritage armor quest chain for Orcs and Humans and the first of two planned updates to in-game holidays. Those looking to expand their roster of characters will now be able to roll a Goblin, Worgen or Lightforged Draenei Monk. For transmog enthusiasts, the Balance of Power quest chain for Legion artifacts is now being applied accountwide, making it easier to unlock new Artifact appearances for your characters, including the rare appearance that requires completing a Mythic +15 dungeon. While not as comprehensive a change as adding the ability to transmog white and grey items in patch 10.0.5, any loosening of transmog restrictions is a positive.
While there is no raid or dungeon to explore in patch 10.0.7, the Forbidden Reach zone will be new to non-Dracthyr characters, and the amount of content being added is significant for an off-tier patch.
Originally published December 27, 2022. Updated March 8, 2023.