WoW
Mar 29, 2022 10:00 am CT
Blizzard Watch interviews Christie Golden, author of Sylvanas, about her writing process and the Banshee Queen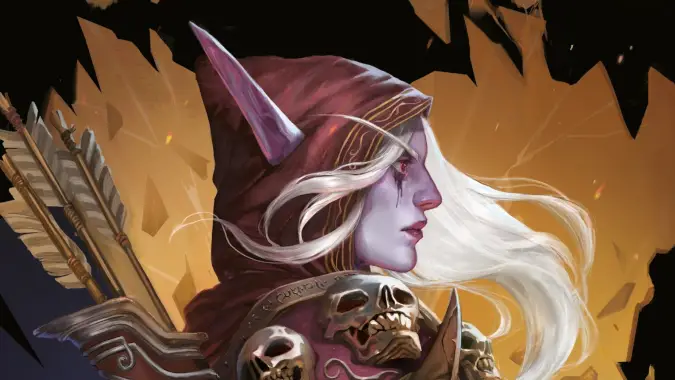 With the new novel Sylvanas coming out on March 29 — that's today as I'm writing this — Blizzard Watch managed to talk to its author, Christie Golden, a name that looms large in not just Warcraft novel tie ins, but through a career spanning 60 novels for multiple franchises. In books like War Crimes and the Three Sisters online comic, Christie has displayed a deft touch with the character and motivations of one Sylvanas Windrunner, who she last wrote in the novel Before the Storm. If anyone knows what makes the Banshee Queen tick, it's Christie Golden.
We were very interested in asking her how Sylvanas expands on and moves beyond the portrayal of Sylvanas Windrunner that we saw in her previous appearances as well as in Shadowlands, and we got a lot of answers to share with you. We also got to talk about Korean drama, her writing process, being a foodie, and other pastimes.
And yes, we asked about Kinndy Sparkshine. We're not monsters.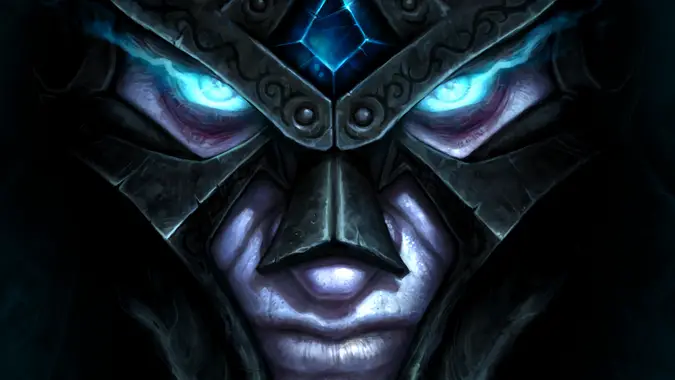 Q: You are in a unique position of working for the company that owns the IP of the book you're writing. How does that work with your writing schedule? Is it something where you can devote time to it full time or do you have to balance it with other responsibilities?
Christie Golden: It's interesting, as Blizzard books that are not published in-house are neither fish nor fowl. Yes, it's a Blizzard IP, but it's being published by an outside publishing house, and my contract with them is separate from my Blizzard job. Therefore, researching and writing was all done on my own time. There were of course meetings to hammer out details, discuss direction, etc. but we usually held those during my lunch hour (again, my own time). What WAS an enormous help is that simply by being at Blizzard and performing my particular job duties, I knew much more than ever before about what was going on with the game and character, even though I'd written many books for them before, and I could bring that extra knowledge into the novel. It helped tremendously.
Q: What is your writing process like?
CG: Once a deadline is negotiated, I figure out how much time I have and how many pages I need to write each day. My writing process is much different now that I have a full-time job, so I tend to get up early in the morning and do as much as I can before I start work. By the end of the day, I'm pretty tired and not feeling especially creative, so I make sure I write when I'm feeling refreshed and focused. I work from an agreed upon outline that more often than not I've actively developed, and a sneaky trick I use to get me going is to cut and paste the day's work focus from the outline onto a blank page (it ranges from a few sentences to a page, depending. Worst is when I've just written something like BATTLE HERE. I hate Past Me for doing that when Present Me has to do the hard work.
Q: Do you have an interesting writing quirk or habit you've developed over time?
CG: I'd love to say I have, but I don't think so. "At six AM sharp, I rise, grind and brew fresh coffee. I sip it while I sit on the veranda and write in my journal to the sound of three special songs. After yoga and getting the bread baking, I eat a square of dark chocolate, then begin my writing in my lovely notebook with my antique fountain pen." (Dang, that does sound cool though…)
I do like to try to "become" the character when I write–as if I were an actor playing the part, trying to get into their head. I also read sections aloud, to catch things I might stumble over or catch missing words. I don't use writing software, and I like colored index cards to plan out story beats which are a way to instantly see if I'm focusing too much on one thing and the pacing isn't what I want it to be. I'm kinda boring in that respect, I fear.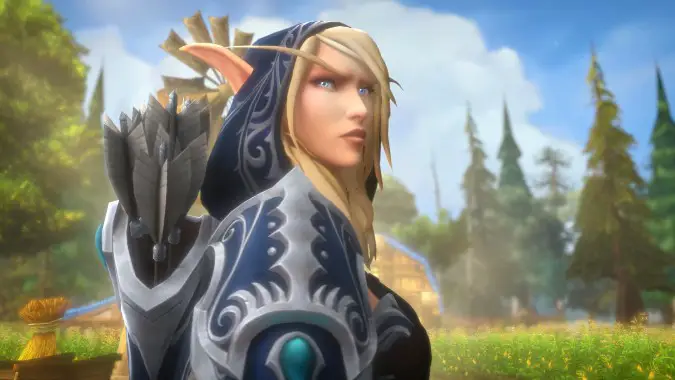 Q: Most people know you as an author and creator of fantastic tales, but what do you do when you're not writing?
CG: I've become an enormous fan of Korean dramas in the last couple of years (*cough* watch Hometown Cha Cha Cha *cough*). I moved a few months ago, and am trying for the first time in my life to devise a place that truly reflects me, so that's been enlightening experience. I'm a foodie, and I love traveling and history. I used to read, but I don't seem to be able to sit and do that any more; so many things demanding my attention these days!
Q: Do you have a favorite book you've written or one that stands out to you the most?
CG: That's like asking a parent which child they love best…and I have nearly 60 "children." There are definitely some milestones: My first one, Vampire of the Mists. My favorite original, A.D. 999. (Elevator pitch: Satan and Loki's Excellent Adventure.) My first Blizzard novel, Lord of the Clans, of course, and Arthas: Rise of the Lich King, which was my first NYT Bestseller–and Blizzard's too! Star Wars: Inferno Squad, nominated for an Audie Award and narrated by the brilliant Janine Gavankar. Assassin's Creed: Heresy, with Joan of Arc as the Assassin (the research was profoundly moving, and it won me my first Scribe Award). And of course, Sylvanas. Because, well…Sylvanas!
Q: What do you think makes a good story?
CG: Good characters. And by that, I mean characters the writer and the reader like hanging around with. I call them "good traveling companions." They can and should be flawed. They might be prickly, or cruel, or you might want to hug them and protect them. They don't have to be nice, or pleasant, they just need to be people you keep wanting to know more about, and enjoy accompanying on their story. A good plot is wonderful, of course, and you might remember the twists and turns or the cleverness or the Big Reveal. But it's people we care about that make the story–the journey–one worth experiencing.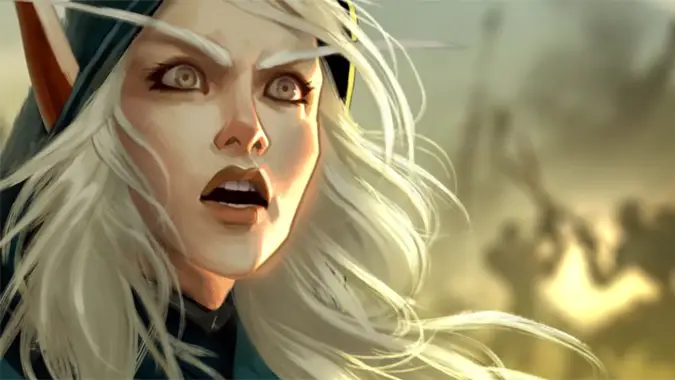 Q: How excited were you to write about this specific character?
CG: It's impossible to overstate it. The Sylvanas character has always been intriguing to me, and here was a chance to tell her story with room to, hopefully, do it justice.
Q: Do you have a particular inspiration you look to when you are writing for a specific IP or character series?
CG: Not really. Each world, each story, has a different tone. A Star Wars novel is not a Star Trek one. A WoW novel is not a StarCraft one. I try to find a "way in" to the story and the character–find the thing about the IP or the subject that really excites me, and go from there. There are some themes I enjoy revisiting, but not all themes are suited to all books. Once I find the right marriage of voice, theme, and character, things flow pretty well.
Q: Sylvanas is a complicated character that has been around for quite some time, did you find the weight of her character difficult to tackle?
CG: It was, for the reasons you cite and others, indeed a challenge. I'd been writing her in novels for over ten years, and I had the extra experience of writing cinematic lines for her over the last five. Getting to know the magnificent Patty Mattson, and helping to direct her in recording sessions, was not only a treat but a fantastic gift which I drew upon during the novel's writing. There were many discussions, as you can imagine, and I think it's also not hard to imagine that Sylvanas didn't want to yield her innermost thoughts and feelings readily. What was a blessing was that most of it was about her character, and I love diving deep into characters, stepping into their shoes, and going with them on their journey. Who was she, at first, before things fell to pieces? What did she regret? DID she regret? What fueled her? What did she tell herself? Fascinating questions. It's been a remarkable experience.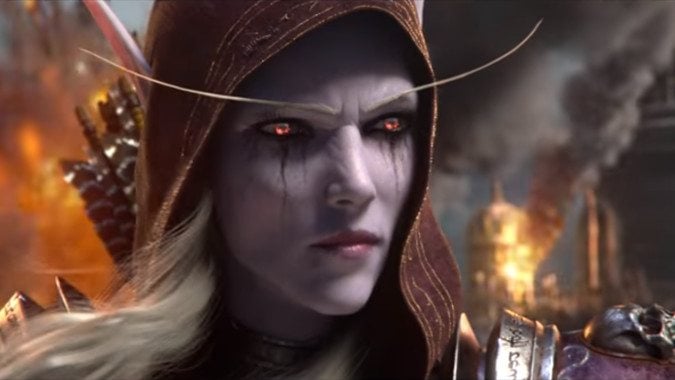 Q: One of the best parts of your novel War Crimes is watching the interactions between Sylvanas and Vereesa. Similarly, in the Three Sisters comic you wrote, the family interactions between Sylvanas, Vereesa and Alleria were at center stage. How much of that comes forward into this novel?
Thank you! And family is a key part of the novel! It was exciting and fun to dive so deep into these relationships. In the first few chapters, you'll see one sister given a great challenge–and what another one does. You'll even meet the youngest Windrunner soon after he comes into the world. You'll be with the family as they endure terrible things, great losses, and see how these events shaped each of the characters. I think one of my favorite things was getting to develop the truly loving relationship the family has, even if sometimes it is loud and volatile.
Q: Sylvanas is a polarizing character for many, but you've always managed to find ways to keep her relatable and comprehensible even as she plots some horrific acts. What do you find to be the core of her character? What makes her compelling for you to explore?
CG: The more we discussed her character, her past and various moments in her present, and the more I actually began setting words down, the more I came to believe that for her it is family. Which I thought was kind of fascinating as she appears to need no one. Yet you see these strong bonds forming, some even after her death. First it was her family of origin–parents, siblings. Then the "family" that is the Farstriders, and Nathanos. Then the "Forsaken." I began to see the connections, the "ties that bind," even if they seemed small or fragile, and even, perhaps especially, when Sylvanas did not see (or did not choose to see) them herself. This inability to truly sever ties is both her Achilles heel and her great strength.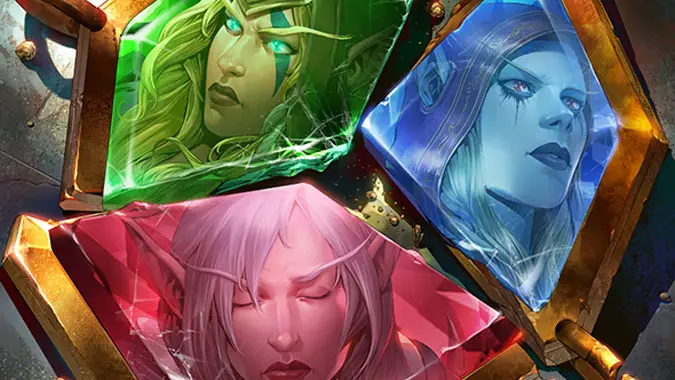 Q: Is there anything that you find difficult writing?
I feel so fortunate to have been able to write so many different and varied things in so many mediums. Dialogue and characterization comes very easily to me, but action and description I had to work on. I've had a lot of practice over 30 years, so it's come easier to me than it used to, but those are still not my favorite things to write.
Q: If you could tell everyone a reason to read this book, without giving any spoilers, what would it be?
It's the chance to see who Sylvanas was, before everything shaped and changed her–and, hopefully, glean some insight as to why she made the choices she did.
Q: Any chance of a Kinndy Sparkshine novel? We really liked her.
Aww! I loved her. I didn't expect so many people to take her to heart, nor Blizzard to have Windle Sparkshine honoring her in game as he did in the book. It's extraordinarily moving. I'd be thrilled to write about her again in any medium.
Thank you to Christie Golden for talking with us about her upcoming novel Sylvanas out today, and especially for the glimmer of hope that we might get that Kinndy Sparkshine novel.