What's the most time you've spent looking for something in a video game?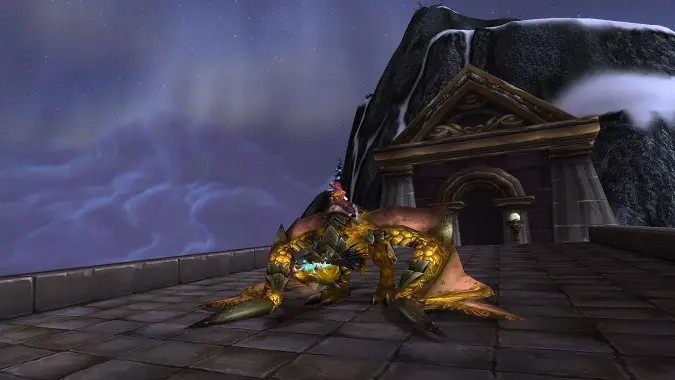 Last weekend, over 13 years since I first started looking for it, I found and killed the Time-Lost Proto-Drake.
That's not to say I've spent all those 13 years looking for it. While I poked my head in Storm Peaks sometimes as a fresh 80 during Wrath of the Lich King I never went so far as to camp for it, but like many players I was intrigued by this hard-to-acquire mount — I still believe the Unusual Compass points to it when it's up. Every now and again, usually during the pre-expansion lull, I would send a new character into the Storm Peaks, flying around and hoping for a little luck.
I actually came closest during the pre-Shadowlands lull when I had a Paladin flying around who stumbled upon and killed Vyragosa three times (if the calculations are correct, each time I had a 10% shot of getting TLPD instead). This time — somewhat inspired by my own discussion about old content — I decided to go all in; not just casually flying around, but doing the research, camping with groups, and eventually leveling a new toon on a faraway server that I felt had the best chance to reward my effort. While it was still luck (that assumed 10% chance) that it was TLPD that spawned, I still felt rewarded for the effort I put in. It remains a great mount, even if it's a little buggy right now.
Of course, that's just one line crossed off my to-do list, even if it's the one that's been on there the longest. I still want to get the Polar Bear mount from Brunnhildar, so I've started doing the dailies there again. At some point I need to start Archaeology again because Rarity keeps reminding me that I'm "unlucky" not to have dug up the fossilized raptor that been on my radar for over 10 years now. And while it's long since lost its cachet as a rare mount, I really need to get back to killing Anzu to get the raven mount.
What goals have been sitting on your to-do list since you've started playing World of Warcraft? Or heck, any video game — I really should complete the second quest of Legend of Zelda one of these days, even though it's been over thirty years since I beat the first quest.