The Queue: Summer vibes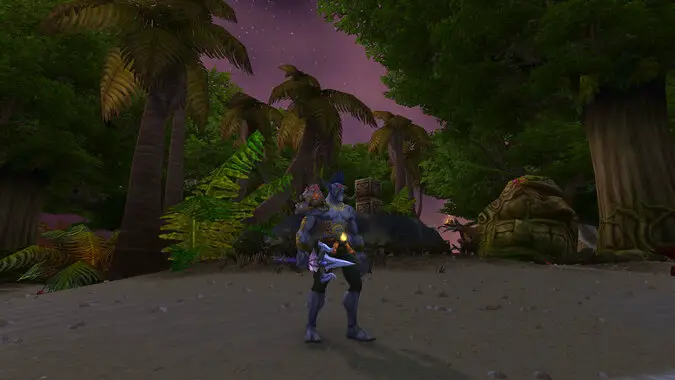 I know that it's not actually Summer yet, but I've gotta make sure that I'm ready to hit the beach at a moment's notice!
While I try and find my tiny beach pail, it's time for — The Queue!
---
JALAMENOS THE ASCENDED DO YOU WANT TO FEEL HOW IT FEELS?
So now that 9.2.5 is out, we're expecting a beta soonish right?
Q4tQ: Did the release date of 9.2.5 and the announcement that season 4 will start "later this summer" change your estimation for the release of Dragonflight?
Soonish, maybe.
I'd expect that we won't see anything until we actually see the start of Shadowlands Season 4. It's such a good marker for we're in the final final chunk of Shadowlands content and now we can start to really show you what's next.
Of course, we also did just get some early Talent Tree previews for Druids and Death Knights so what do I know? I'd still be extremely surprised if we see Dragonflight this year — I'm betting mid-March as its release date.
---
LIZ DO YOU WANT TO KNOW THAT IT DOESN'T HURT ME?
Who is your favorite Star Trek character?
How can you choose just one?!
Is it Data, who got some of the most interesting storylines in Next Generation? Well, aside from all of the other great Picard and Q moments, or maybe it's Riker for always being so dang cool.
Maybe it's Q, for being such a force of chaos across all of the series. He's always worked best with Picard, but when he got to hang out with Janeway it was always a fun time.
Garak of course for getting to have the most fun on Deep Space Nine. 
Of course, Empress Georgiou got to have a lot of fun too. I always like it when they put the mirror universe people in with the main crews. That's some good friction.
The list is always in flux.
Right now I'd say that the top of the list though is Captain Pike on Strange New Worlds. Anson Mount makes him feel so believably Star Fleet through and through, while still getting to have a little fun with it. I'm glad that they gave him a chance to play with the character beyond the second season of Discovery. Plus, that hair!
---
ARTHONOS DO YOU WANT TO HEAR ABOUT THE DEAL THAT I'M MAKING?
Q4tQ: As someone who mostly plays Diablo for the story, does the game do anything to move the story of Sanctuary forward, or is it the equivalent of an anime filler arc and something I could easily skip?
This is definitely not going to move the major story forward. Since it's set between Diablo 2 and Diablo 3 at best it'll help show how the world fell (more) into darkness.
You could probably skip this, and when Diablo 4 comes out not feel like you're behind at all.
I would be surprised though if there aren't some references and callbacks to characters that have been created for Diablo Immortal that show up in Diablo 4. All of the D3 characters who got names and personalities in Heroes of the Storm did get flavor text and weapons added to D3 after they existed.
---
AND IF I ONLY COULD, I'D MAKE A DEAL WITH STEWART TOLHURST
Top tip – don't do the Blood Elf Heritage Weapon quest on a fresh 60, it is really over tuned and Liandrin is a rubbish tank!
That's it you just made the list — how dare you speak ill of Lady Liadrin!
Luckily there are some pretty quick ways that you can get fresh characters more gear by quickly visiting Zereth Mortis, or sending tokens from your mains.
---
AND I'D GET VEILSTRIDER ROXXII TO SWAP OUR PLACES
You're going on the list with Stewart.
---
MUSEDMOOSE OOH, THERE IS THUNDER IN OUR HEARTS.
Q4tQ: what do you think would be the least likely intra-Blizzard crossover? I was going to say Overwatch/Diablo, but then I watched this and I'm not so sure:
Catastrophic failure at an aluminum extrusion line. Looks like an overpressure event and the oil itself (over a drop ceiling no less) open a portal to a demon dimension… pic.twitter.com/VQeM0f85Mw

— j.d.christopher (@jdchristopher) June 4, 2022
I love when technology and demonic forces overlap. Doom is a great example of that being done well, I'm sure there are others out there too, like Bayonetta and Devil May Cry. 
At this point, it feels like any of the games could reasonably fit into each other, with a minimum of handwaving. Overwatch would have the hardest time suddenly dealing with the fantasy elements of Warcraft I feel like. Even then though, you could just blame it on a portal gone wrong, and watch as Reinhardt and Yrel compare hammer sizes.
I've been playing a bunch of Warcraft: Arclight Rumble and that feels like it would be really easy to add both StarCraft and Diablo. I'd love to see a squad of Zerglings in its art style, I bet they'd be super cute.
For truly unlikely crossovers we'd have to go back to Rock 'n Roll Racing or Blackthorne. Even with the Blizzard Arcade they just feel so far from everything else that they're doing now.
---
FUZZYBUNNY LET ME STEAL THIS MOMENT FROM YOU NOW.
Q4tQ: What are the chances that Microsoft raises subscription prices so that Blizz customers can access their pass and Microsoft pass holders can access Blizz games?
I think that messing with the subscription price at all would be a tough sell. It's already pretty rare for a game to have a monthly subscription still, increasing that at all would be bad. Especially for a service that not everyone would want. I love having Game Pass for getting to try things I might not want to spend money on, but I'm also a person who plays lots of different games. I know that there are people out there who are only going to play Warcraft and would have no need for it at all.
Today's Anna Earworm™: Running Up That Hill
Have a great week everyone, let's see your best beach-themed transmogs in the comments below!