Stormgate is a new free-to-play RTS from ex-Blizzard devs at Frost Giant Studios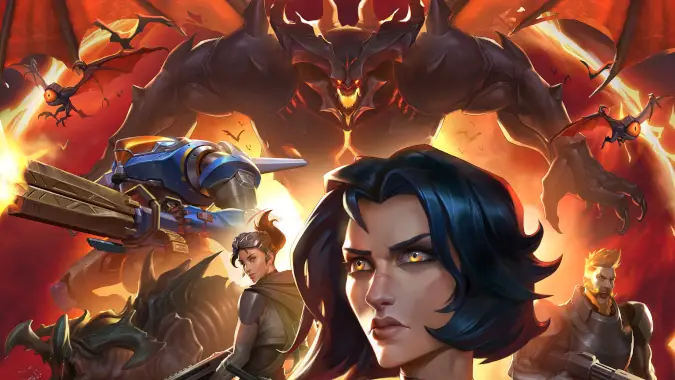 Back in 2020, Frost Giant Studios was founded by a host of ex-Blizzard developers who had worked on the studio's RTS franchises, shipping titles like Warcraft 3 and StarCraft 2. They claimed that they were working on the next great RTS, and given their pedigree, I've been following them with an interested eye. And now we finally know what Frost Giant has been working on: an RTS called Stormgate.
While there's still a lot we don't know, we now have some basics to discuss for the game that's aiming to be the spiritual successor to Blizzard's big RTS franchises. And with Blizzard out of the RTS genre, Frost Giant seems poised to succeed. Here's what we know about Stormgate so far.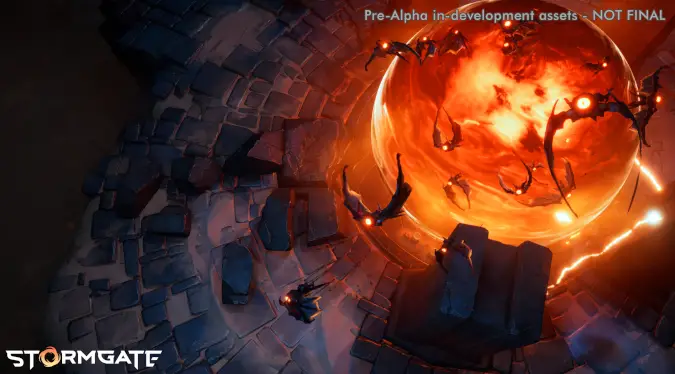 What's this game about?
Stormgate is an RTS game set hundreds of years in the future after an apocalypse of some kind. Whatever this apocalypse was, it left humanity fighting against an invasion force of demonic alien beings, in a fantasy vs. tech battle for control of the Earth. The demons return through the Stormgates that the game is named after during periods of intense solar storm activity, leaving an already almost-wiped-out human race to battle for their survival. Luckily, the humans do have big robotic mech suits to fight the demons in. A twenty-foot-tall mecha vs giant demon monsters? Sounds like a party.
So far so good — I'm a sucker for a magic vs. tech setting, although I also do hope to see some bleed through — a giant demon with a chainsaw sword taking on a battle mech with specific runic magic carved into its superstructure would absolutely be my jam. Frost Giant says we're not going to be limited to just playing demons or humans — mysterious other factions (at least one, maybe more) will be joining the fray. I am so hoping we get some spin on faeries and elves, maybe something like the Tuatha De Danann of Irish myth or the Vanir of Norse myths but with a cool science-fantasy tinge Like the Asgard in Stargate or the Celestials in the MCU.
How is Stormgate different from other RTS games?
Well, for starters, there's an emphasis on social gameplay in Stormgate that I haven't really seen to this extent in previous offerings. There's the typical 1v1 competitive esports gameplay, of course, but there's also competitive 3v3, where three players on each side lead their own armies into the fray, and a 3vE mode where three players team up to battle the game's AI. There's also talk about other cooperative play options but at present there's not much detail. Still, it's a welcome focus for the genre. I can't pretend that I know every RTS well enough that I can say with confidence that it's brand new, but it's certainly not widespread and I'd love to see more attempts to get RTS games with cooperative modes like this.
Stormgate also has an in-game editor so people will be able to make their own content for the game (something we've seen in other RTS games but which I always applaud), as well as custom matches and a spectator mode so you can watch people play, which I find super helpful for learning a new RTS. The in-game editor will be the same tools the game's developers are using to build maps, and I'm really interested to see what players get up to with that. Remember, the entire MOBA genre exists because players modded Warcraft 3 and that led to juggernauts like DOTA 2 and League of Legends, so who knows, maybe in ten years we'll be talking about an entirely new genre of games built inside Stormgate.
The game is pre-alpha at present, so it's hard to talk many specifics. I am very interested in the some of Frost Giant's stated goals of introducing new players to the genre by breaking down barriers that keep people from playing RTS games, and making sure that unnecessary complexity doesn't interfere with new players picking up and playing the game. It's something I hope the devs keep in mind as it's a huge barrier to new RTS games getting players.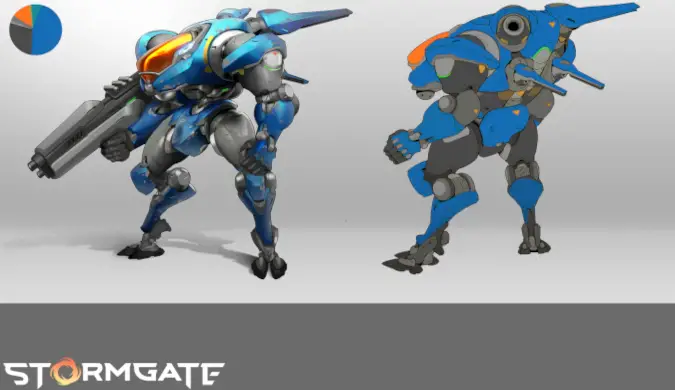 When will Stormgate be coming out?
We don't have a release date for Stormgate quite yet. Frost Giant Studios is talking about 2023 for the beta — you can sign up for the beta now on the Stormgate site — so I wouldn't expect to see the game out before the end of 2023 or early 2024. We should have a chance to see more Stormgate very soon, as it's scheduled to be featured on the PC Gaming Show on Saturday, June 12, so perhaps we'll get a few more details.
I know it's early days and I'm hesitant to gush too much, but considering Frost Giant has people like Kevin Dong working on its co-op content — the person behind StarCraft 2's co op commanders — I am cautiously optimistic about this game. I mean, I like sci-fi vs fantasy, I like giant mecha, I like RTS gameplay with an emphasis on onroading and cooperative play options, so far everything I'm seeing here has my attention.
All it needs is a bunch of dinosaurs showing up and eating everyone and I'm there on day one with my dinosaur army. I'm just saying, Frost Giant, imagine elves riding Tyrannosaurs into battle — it could be the best RTS faction ever designed.