Necromancer joins the Diablo 4 as the game's fifth and final class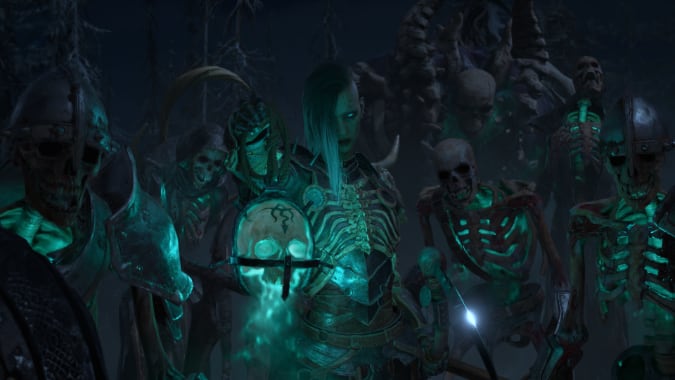 Blizzard has announced Diablo 4's fifth class: the fan-favorite Necromancer. Based on the game story we saw in the game's first trailer involving the return of Lilith, mother of Rathma himself, it's not a surprise that the Priests of Rathma are involved in this game — but it's still a bit of welcome news to see them officially added as a playable class.
We now know all of Diablo 4's five playable classes: Barbarian, Druid, Sorceress, Druid, Rogue, and Necromancer. It's a bit of a surprise that we didn't get a Paladin/Crusader or Amazon/Assassin/Monk type. The Rogue certainly fits into that agility DPS role, and can be an archer or a hand-to-hand combatant, so there's at least a nice available in that same vein, but we don't have the anything that quite fills the role of the plate-wearing, shield-wielding warrior we've seen in recent games.
Though there's still the possibility of more classes in the future — Blizzard has added Diablo classes in expansions and DLC in the past — the game was only going to have five classes at launch. The Necromancer is the last of them.
This was announced at the Xbox and Bethesda Games Showcase, which also showed off Xbox Series X gameplay and talked about some game features, like the game's robust character creation and the PVP system. Beyond the Necromancer, we didn't see much in the preview we haven't seen elsewhere, but we did find out that the game is coming sometime in 2023 on Windows PC, Xbox One X|S, Xbox Series X|S, PlayStation 4/5 with cross-play and cross-progression across all platforms. The developers have talked about wanting broad cross-play and cross-progression, but this is the first time we've seen it confirmed. It will be great to finally be able to play together regardless of platform, and to jump between platforms if you'd like. One thing that wasn't mentioned on the console front was Switch support: Diablo 3 is currently available on Switch, but it doesn't look like Diablo 4 is heading to the console… at least not immediately.
If you want to see all the details, you can watch the presentation below or check out Blizzard's post on the latest Diablo 4 details.
With Diablo 4 and Necromancers are coming in 2023, it's time to get hyped, I believe.  I'm already there.