The next iteration of D&D will have its own VTT digital play experience — but we still have a lot of questions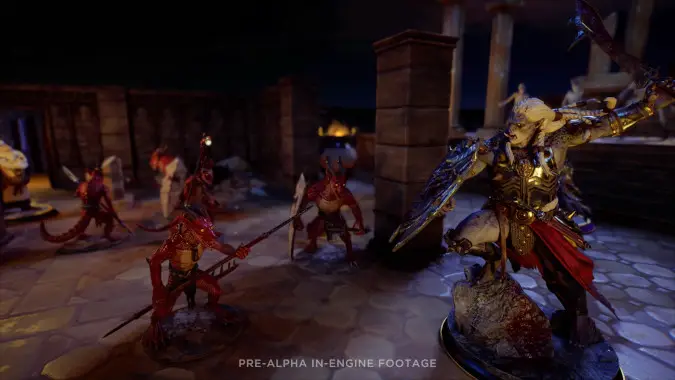 The next edition of D&D is codenamed One D&D, and with it Wizards of the Coast intends to give players the full game experience online with a 3d virtual tabletop (VTT) system including custom miniatures, sets, and an interactive environment. Though the system is still in early alpha, the first preview has given us an idea of what will be. Campaign settings with buildings, kobolds, player characters, and all of the other creatures you can imagine, which you can move around just like you were sitting around a table. Buildings and walls that go up or down to help navigate the virtual tabletop. A real life dragon figure imported into the game, translating into the digital world. And everything is integrated with D&D Beyond, so all the game information you need — from character sheets to creature stats — is easily accessed.
Let's look closer at the new D&D digital play experience: what we know, what we don't know, and how it compares to other VTT systems.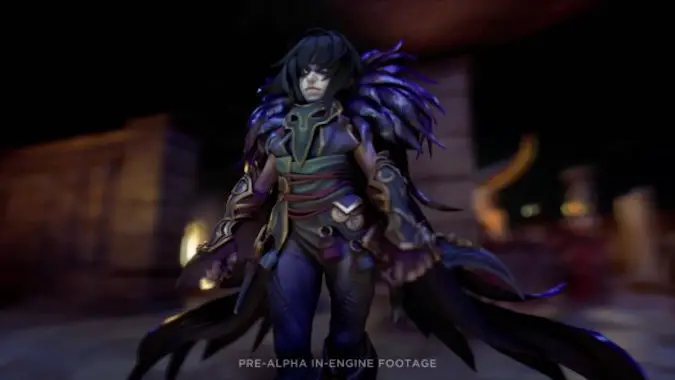 The One D&D digital play experience aims to offer authentic tabletop gameplay
The focus is on giving players everything they need online. Character sheets and digital dice? They're there. Miniatures? There. Tabletop, game board? All there. And of course, what makes D&D stand out — customization. You'll be able to change the look of your miniatures, just like you've applied a fresh coat of paint. Campaign books will include creatures, NPCs, and buildings so you can jump straight into the virtual game world. However, players rarely stick with the areas built into the campaign, so you can build your own, too. Buy a particular set, and perhaps it comes with a castle, the surrounding terrain, and maybe the areas within. But then the players want to explore the surrounding forest that isn't mentioned. No problem! Unnecessary walls can be lowered, grass tiles added, trees built atop, and appropriate forest beasts placed inside.
Besides customization, another focus the developers are working on is making sure that the miniatures in the VTT really look  and feel like miniatures. The system uses the Unreal Engine, but it isn't a video game — it just needed excellent graphics that pull off the look of real miniatures and detailed environments. The tabletop scenes are displayed with a tilt shift angle over the board, which makes everything look small — it's like looking over the table at home, with little figures scattered across it.
But being digital allows the system to make some improvements on reality: for example, moving a figure showed how many feet it was moving, a vital part of gameplay, especially in combat. There's no need to count spaces on the map, because you already know exactly how far your 30 feet of movement will take you. It's a small, but important feature, and it's good to see practical conveniences are already in the early client.
The system is designed to make it easy for the Dungeon Master, to help them set up for a great game while being lazy — setting things up shouldn't be a burden, and there's no better way to appeal to frazzled DMs everywhere. At first glance, this digital play experience is gorgeous, and practical too. D&D official minis, directly connected to the books and D&D Beyond, with easy setup and play.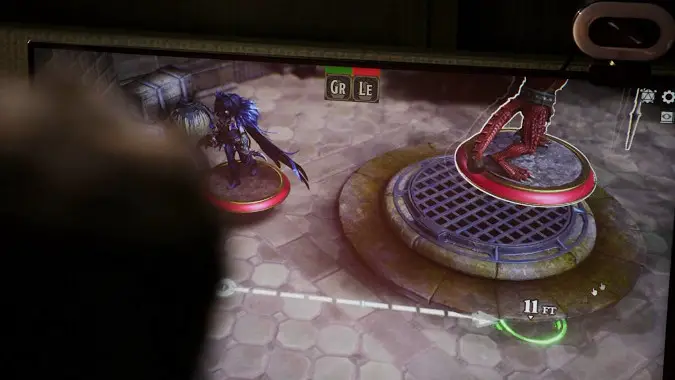 The D&D One digital play experience is a lot like other VTTs
Right now, there are several ways to play D&D virtually using a VTTs, such as Roll20, which handles virtual maps, avatars, dice rolling, and character sheets, letting players game together no matter where they're located. There are even plugins that allow it to connect directly to D&D Beyond so information and rolls in D&D Beyond can show up in Roll20. The platform has come a long way over the past decade since its birth from a Kickstarter, providing an online option that players really needed to play D&D, or, really, any tabletop RPG. However, while avatars for players or NPCs can be included, the system is a 2d game board — there are no realistic miniatures or settings, which can be a core part of D&D. But insofar as integrating books, game stats, and other tools, it's similar to what Wizards of the Coast proposes with its digital play experience.
There are other options. TaleSpire, another game that came as the result of Kickstarter, which provides 3d miniatures and buildings, as well as ways to create physical sets to to bring the visual world of the TTRPG to the players — visually, this is much more like the digital play experience. Another option is Tabletop Simulator, which is used to play all manner of board games online, but also has a massive amount of boards specifically made for D&D, ready to go with creatures, characters, and props. It's also just a space for people to log in and share a table together. Content can be imported into these games, from a character creation program like Hero Forge, but these systems are game-agnostic and don't have the easy integration that Roll20 has or the digital play experience proposes to have.
There are also many, many more VTTs not mentioned here. There are a lot of online tools that can help you run D&D games, and some — like Roll20 — even work with D&D Beyond. The new digital play experience aims to give us better gameplay and integration than anything we have today, but it remains to be seen whether it will follow through on that promise.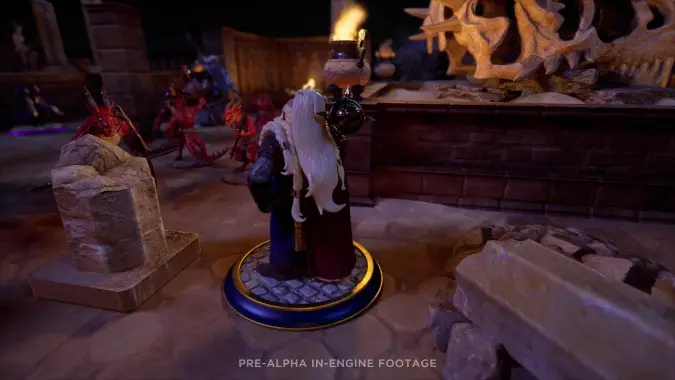 There's a lot we don't know about the digital play experience
The biggest question is how much will it cost? There was no mention of pricing in the preview. Will digital minis and sets come free with the purchase of a book, or a book bundle? Will a subscription to D&D Beyond be required, or otherwise give a person everything they need to run a game? Will every new creature — like a Beholder — be an extra charge that turns the system into a microtransaction nightmare? Hero Forge charges per character for custom minis, while TaleSpire and Tabletop Simulator are a one-time cost for the system, and Roll20 is free — though you'll need to buy books through Roll20 to have easy access to content. Wizards of the Coast appears to be trying to replace all such programs, but how will they monetize it? The price tag will play a big roll in how accessible the system is.
How much content sharing will be available? Is it easy for players to bring in their own character minis? Can one person buy content and share with others? Can characters from Hero Forge be brought in? Obviously the system will require testing before any of this is known, but this can be a limiting factor to playing. Right now in D&D, people bring their own, personal pieces to the game, and that can mean something that is not D&D official. If the DM, or whomever is hosting the game, has to own everything, that can take away the individuality of the player.
Will the system have integrated voice chat? What about video? If Wizards wants to provide the full experience, that kind of personal interaction is a huge piece of the game.
And finally, when will this be available? One D&D is already open for testing, with the first Unearthed Arcana offering some of the races, backgrounds, and spells for level one characters, available for download. But this virtual table is in the pre-alpha stage, and the estimated time for beta is "later 2023." We won't see this for a while, so these questions will remain unanswered for now.