Dune: Awakening promises an MMO experience on the hostile desert planet Arrakis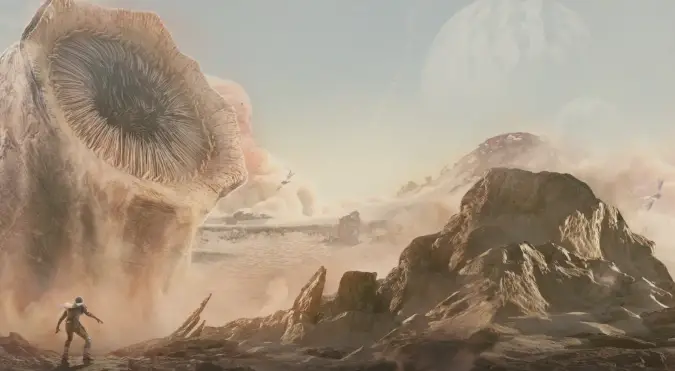 Funcom is making a Dune survival MMO, called Dune: Awakening, which is taking a survival approach, less like WoW and more like Conan Exiles or Ark: Survival Evolved — without Dinosaurs and with gigantic spice worms — so it's up to you if that's an improvement. No word yet on if Dune: Awakening will have the same focus as Conan: Exiles on customizing very specific body parts. It's fair to assume at least some of the Exiles gameplay will inform how Dune: Awakening plays, but Dune's world of Arrakis is very different from the Hyborian Age — stillsuits cover up a lot more skin, for example. I expect water and spice collection to be big parts of the survival mechanics of this game.
This is interesting in part due to the history of MMO development, and the Warcraft universe in particular. Multiple people involved in the creation of the original Warcraft Orcs and Humans have talked about the influence Dune 2, an RTS game set in the universe of Frank Herbert's novels, had on their development of the game. Without Dune 2, there wouldn't have been a Warcraft, and without that, there's no World of Warcraft.
Honestly, I doubt that WoW will have the same influence on Dune: Awakening as it's ancestor Dune 2 had on Warcraft — Survival MMOs are their own genre and tend to start off with your character literally killing grubs for food and hiding from everything or dying a lot. The hostility of the world and the means by which the player overcomes it are key features. We know Blizzard is working on their own survival game — probably not an MMO, I suspect it'll be more like Valheim — but I don't know how far along they are, or how Dune: Awakening might influence or be influenced by that game.  I do feel like this is going to be a very different experience than World of Warcraft and that's all to the good. Arrakis itself will be both the world you explore and the main, major threat and antagonist that you have to defeat or die in the attempt.
However, it's hard to be an MMO in 2022 and not be somewhat influenced by WoW, even if that influence is purely in terms of what you deliberately don't do. Expect there to be almost nothing like rested XP, easy starting zones, or much if any sort of tutorial play in Dune: Awakening, and I have a suspicion that there won't be instances, raids, or much PVE content that doesn't revolve around an open world experience. Games like Rust and Ark are likely to be more direct inspirations. But if you like things like playing Fallout games on their highest difficulty or doing a Hardcore Diablo 3 playthrough, the challenge of juggling things like thirst, hunger, and the threat of the world — and potentially other players — may make this one an MMO that appeals to you. Plus, you get to play on Arrakis, one of the most ridiculously harsh fictional settings I can think of, and that likely will be reflected in the game's survival mechanics.
Honestly the Dune novels and the Survival MMO genre might just be a perfect fit.
You can wishlist the game on Steam, and there are beta signups on the official site if you're looking for an MMO that will absolutely have a gigantic worm eat you several times. And really, who isn't?