The Queue: The glorious return of Splatfests — Rock, Paper, or Scissors?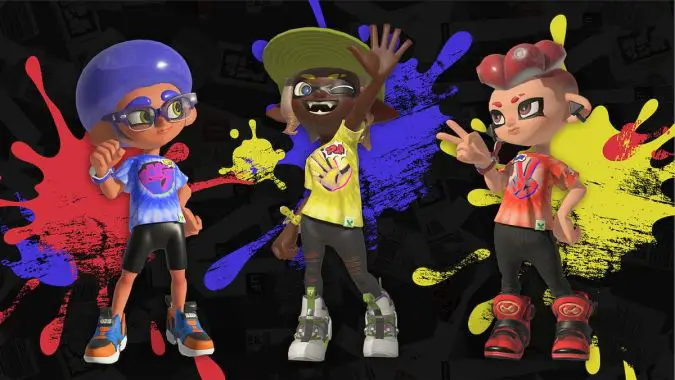 This weekend is one of those weekends I've been looking forward to for so long that it's hard to believe it's actually here. I speak, of course, of the return of Splatfests! As I'm sure I've mentioned at least once here, this is a brand-new Splatfest format, now featuring THREE sides instead of two (and a slightly different match-up format as a result).
I have no idea how it'll go, but I'm excited all the same. Also, I'm leaning heavily toward #TeamRock because of Big Man, but I also really like Shiver's (#TeamPaper) style.
Anyhow, while I think on that, we have a Queue to get to.
---
RED STARTS US OFF WITH A FUN ONE:
take a quote from WoW and add "lmao" to the end Terenas: No king rules forever, my son! lmao
BOW DOWN BEFORE THE GOD OF DEATH LMAO
Outside lies doom lmao
[In front of a tree] We are the Forsaken. We will slaughter anyone who stands in our way lmao
GREYMANE'S FORCES HOLD THIS WARDEN TOWER LMAO
---
BENDOVER WANTS TO KNOW WHOMST WE SHOULD FOCUS ON AFTER THE TIME SKIP:
QftQ: With the timeskip being confirmed after Shadowlands going to Dragonflight, and Blizzard telling this is a way to give a breather for Azeroth, and also, allow for some younger characters to grow up, so they can become relevant people in the story, who are some of the stronger candidates to step up, or who would you like to see?
Li Li Stormstout is one character I could see taking a more active role, as adventuring is certainly in her blood. I'd love to see Dagran Thaurissan II, some more of that Dwarven Politics, and how the kid is dealing with all that. Anduin Wrynn wasn't much older when he became relevant to the larger narrative. One a bit more out there idea could do with the Scarlet Crusade, and them holding the supposed rightful heir to the Menethil line.
I'm stealing something from Taliesin and Evitel here, but I'm interested in Salandria's story. Granted, she's apparently grown up a bit already buuuut whatever. Grow her up a little more and show us why the Bronze Dragons didn't like her!
I know I just referenced them in the last answer, but I also wanna know what those "outside lies doom" kids from Suramar are up to now.
And uhh… Xal'atath AKA Knaifu! What's she been up to and how's she doing these days? Is she happy? Still sing…ing her lovely tunes?
---
ARTHONOS WANTS POWER WORD: UPDATE
Q4tQ: Another Alpha update without a single update for Priests, and it has been 29 days since the last blue post where they claimed they were collecting feedback and preparing updates "soon". With the rumor that the lead Priest developer quit, do you think it is time to start worrying?
I think two things are true: Some classes are getting much better communication and more frequent updates than others. All classes have a long way to go before being ready and we have plenty of time left to see those changes.
So, while it's a bit disappointing to feel like we're being ignored, I'm not worried, and I don't think it's time to start worrying either. If a launch date is announced and we move into beta without any updates… well, maybe be worried a little.
---
FALRINN HATES CURRENCIES LIKE I DO:
QftQ: How many currencies are we probably going to have to keep track of in Dragonflight? It has seemed like the number has increased with each passing expansion, so I'm curious if the trend will continue or reverse.
Unfortunately, I don't actually have a real answer to this yet — but I did want to bring it up anyhow, because I absolutely hate how currencies are handled in the game. It's convoluted and not at all friendly to new or returning players. It's honestly TOO on the nose that one of the Season 4 currencies is "Confounding."
I feel like Blizzard doesn't know how (or doesn't want) to change currencies in a way that makes individual zones feel unique without also being a massive headache. To be honest, I think they should plot out the expansion's timeline, figure out what currencies they THINK they want to add from now until 11.0, and then figure out a way to consolidate them all. To me, the current approach feels very much patch-by-patch, which leads to the mess of currencies we have today.
---
ENO HAD A FOLLOW-UP QUESTION:
What do dragons use as currency, incidentally
Claws, eggs, scales, lots and lots of gold and treasure, and/or nothing but they say it in a way that makes you think it's gonna come back to bite you later.
---
KALCHEUS GIVES ME A REAL EASY ONE:
Q4tQ What unannounced/nonexistent gaming sequel do you want most?
Bloodborne 2
---
MUSEDMOOSE WANTS TO SPECULATE ON MORE OLD GOD TWISTS:
Q4tMitchQueue: what do you think about Y'Shaarj being the surprise final boss of Dragonflight? I hadn't even considered it until I saw this video, which I think makes a pretty interesting lore-based point.
I know it's pulling from a few loose lore threads, but I'm intrigued. And the twilight dragons were in fact brought back in BfA. However, I'm also a little iffy about another expansion pulling a third-act Old God twist like BfA did, so hopefully if it goes that way, we'll see it coming.
Though we could have our cake and eat it too, if the resurrection of Y'Shaarj isn't leading to the big bad but is instead the B-plot leading into the next expansion. Bwa ha ha.
I agree with you in that a third-act Old God twist feels a little stale at this point. And as much as I DO like the story Tali laid out there, if we do more Old God things, I want to go all in. All Old Gods coming back, major cities taken over completely, talking fish, and maybe even some cosmic Void-y stuff. Gimme the works.
N0w, I think from a player standpoint, the same type of enemy throughout an expansion would get boring, so I understand why Blizz hasn't wanted to necessarily make them more than a patch's major focus but still.
I do like the idea of it as a B-plot that doesn't actually end but instead carries us into 11.0 — that could be fun.
That's our Queue for today! If you feel so inclined, please give a shout-out to which team you're on for this Splatfest (even if you aren't actually playing)… and maybe also ask questions for tomorrow's writer.