Hearthstone Maw & Disorder Mini-Set puts Sylvanas on trial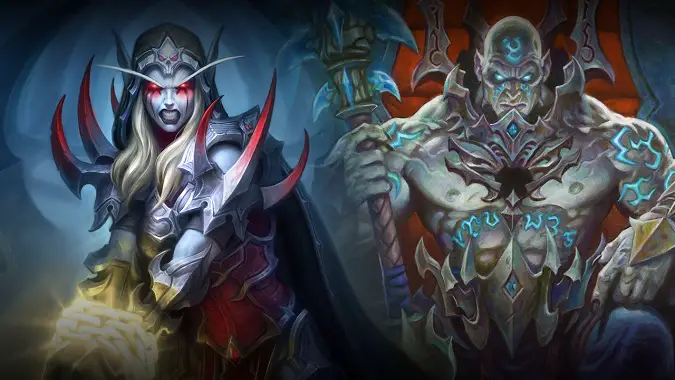 The latest Hearthstone mini-set Maw & Disorder arrives September 27 — today — and brings with it 35 new cards themed around the trial of Sylvanas for her many crimes, although specifically this time it's for anima theft. That's right, Sire Denathrius wasn't actually murdered in the Murder at Castle Nathria and to make things even weirder the Jailer presides as the judge in the case while Nathanos is the defense lawyer. Clearly the Hearthstone team has a completely different vision for what the Shadowlands are capable of compared to the World of Warcraft team.
Narrative dissonance aside, Maw & Disorder brings its normal array of new cards to the game, with 5 Legendaries, 1 Epic, 14 Rares, and 16 Common cards. The pricing remains the same as previous mini-sets, with all 66 cards (one copy of each Legendary, two copies of everything else) available for 2000 gold or 1500 of the new Runestone currency (equivalent to $15 US). Those who want golden versions of the cards can obtain the "all-Golden" set for $69.99 or 7000 Runestones. If you choose not to purchase the mini-set directly you'll be able to acquire the cards via Murder at Castle Nathria packs or by crafting them with dust.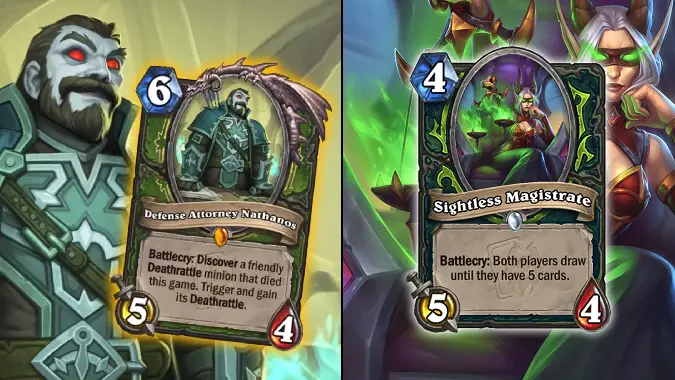 The best cards from Maw & Disorder
Maw & Disorder builds somewhat on Murder at Castle Nathria by adding more cards that work with infusion to the mix — including one that infuses cards still in your deck — but forgoes new Locations which while understandable (as there's only 35 new cards coming in the mini-set) is a little disappointing. While the Standard play mode meta will take a little time to sort itself out, these are the cards I'm most interested in:
The Jailer is a 10 mana 10/10 minion with one heck of a Battlecry: it destroys the rest of your deck while making your minions immune for the rest of the game. On the one hand, immune minions are pretty powerful (but not unstoppable — a card like Brawl can still remove them from play) but you're also gambling that you can finish off your opponent before Fatigue becomes overwhelming. I'm not expecting this card to show up in a lot of decks but when it does it will make things very interesting.
While likely not as powerful as the original Sylvanas Windrunner card, Sylvanas the Accused should make its way into a good number of decks. A neutral 6 mana 5/5 minion, her Battlecry can destroy an enemy minion but if you're able to meet the admittedly steep Infuse requirements she'll be able to control it instead.
Sightless Magistrate should aid the return of the once-popular "Aggro" Demon Hunter deck, with its strong Battlecry helping refill the players' hands until they have 5 cards. While you risk aiding your opponent since they also draw cards if under 5, it's much more likely the deck built around the card will gain the most benefit.
Finally, Defense Attorney Nathanos should terrify any player; not because it inherits and automatically triggers a Deathrattle but because a smiling Nathanos is the scariest thing I've seen yet.
Will Sylvanas be found guilty and sentenced for a crime she may not have committed? Is the Jailer subtly pulling the strings of everything that has happened? And isn't it pretty obvious that Sire Denathrius is behind it all since he faked his own death? Stay tuned to see what transpires on Maw & Disorder. DUN DUN.