How much time do you need to prepare for the Dragonflight pre-patch?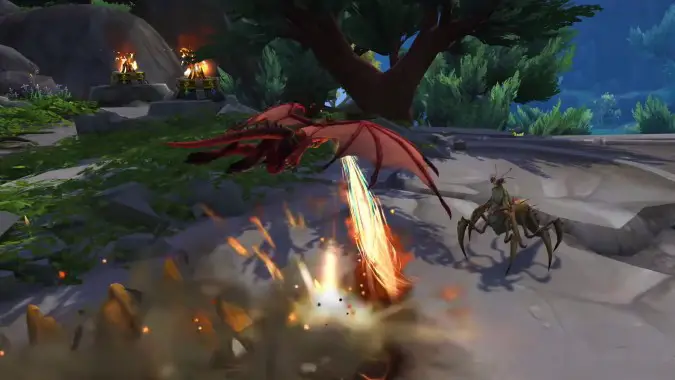 The World of Warcraft team announced yesterday that the pre-expansion activities for Dragonflight will be broken up into two patches: one arriving next week that'll bring new talent trees and HUD changes, and one arriving with new activities the week of November 15 — less than two weeks before the release of the expansion. While it makes sense that the development would want to concentrate initially on all the system changes, there's going to be a lot to do in mid-November and maybe not all that much time to do it.
The most time-sensitive activity will be the Primal Storms, events similar to the Legion Invasions of yesteryear but with an elemental flavor. Completing them will reward Primeval Essences used mainly to purchase ilevel 252 gear — great for alts who missed Zereth Mortis — as well as a toy and heirloom trinket. While my alts aren't in need of too much gear, I want to make sure I collect the transmog as they'll likely be unavailable after the event is over. So that's 36 pieces of armor to buy in addition to the toy (the trinket requires completing all four Storms on one toon, which doesn't seem like a huge deal). While I don't expect to be farming nonstop, it doesn't appear it'll be something I can complete in an hour or two.
Of course I'll also want to spend time leveling a Dracthyr Evoker. This requires a prepurchase to unlock so it may not end up on your to-do list, but if I can get one ready in advance of the expansion release that's a bonus. The leveling zone isn't onerous but I expect to spend several hours trying to find the perfect color combination for my Evoker.
Finally, the Uldaman dungeon has a new wing being added for Dragonflight and it'll be available during this time as well. Fortunately it's not going anywhere afterwards, but it wouldn't surprise me if there are some quests or rewards that are only rewarded before release.
So I'm looking at probably multiple days of gaming to accomplish all I want. Two weeks feels like enough time — or at least it would if Thanksgiving wasn't being celebrated in the US during that fortnight. Oh, and the Anniversary event will also be kicking off at that time. And I'll probably not have finished God of War: Ragnarok yet. It'll be easy; who needs sleep anyway?
What about you? Are you already calculating the hours you'll need to spend working on the pre-patch? Which of the activities are you most looking forward to? And if you're in the US, will the Thanksgiving holiday give you more time to play or less?