What are you most looking forward to with the arrival of the Dracthyr today?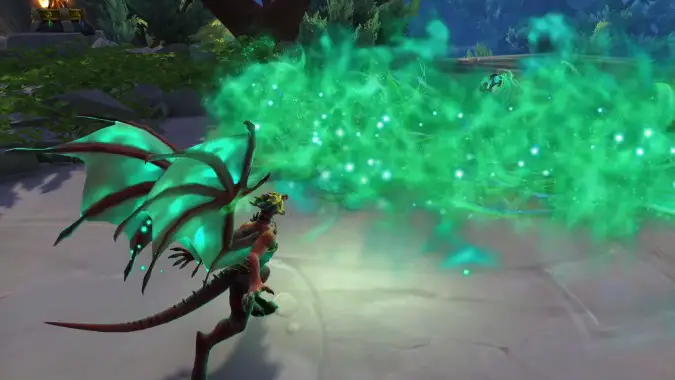 The second Dragonflight pre-patch arrives today, and with it the ability to create a Dracthyr Evoker character (if you've pre-purchased the expansion). Evoker is the first new class World of Warcraft players have gotten since the arrival of Demon Hunters in Legion, and Dracthyr are the first non-Allied Race added since the Mists of Pandaria cleared and Pandaren were made available — and like the Pandaren, there are no faction restrictions for the Dracthyr. Since Dracthyr Evokers are currently a uniquely-restricted class-race combination, the development team has provided lots of special animations and customization options to make them feel unique.
The customizability of the Dracthyr is pretty insane; I tried to calculate the number of possible combinations and gave up when I hit the quintillion mark. Visages (AKA their humanoid form) are also replete with options, and the game itself is a lot more flexible for Dracthyr than Worgen when it comes to staying in Visage form during combat. While I've spent plenty of time on the beta trying to come up with my Evoker's appearance, I strongly suspect I'll be spending half my time with the character in the Barbershop — thankfully now free.
The other advantage of rolling a Evoker is we'll get to experience the first new zone of the expansion, the Forbidden Reach. Like many other starting zones for hero classes players will learn how to use the new abilities of the class (especially Soar) while also learning about the history of the Dracthyr, expanding on the lore revealed in the Dragonflight: Legacies cinematics. Many of the storylines characters will be pursuing in the Dragon Isles get their start in the Forbidden Reach, so even if you don't plan on making an Evoker your main it's still a good idea to start one just to get that foundation.
Finally — and it seems odd to be saying this — we can't forget about the fact that the Evoker is a new class. I'm not much of a healer normally so I don't think I'll play around with the Preservation specialization at all, but I am very intrigued by the mix of Dragonflight destruction the player wields in Devastation. I can't say for sure I'll like it better than other caster options, but I'm looking forward to trying.
What about you? How excited are you for the arrival of Dracthyr Evokers? Are you planning to spend hours customizing, or are you going to roll the dice so you can just jump right in and see the Dragon Isles? Most importantly, have you reserved a name for your Evoker? Are you choosing a punny name, a serious name, or just going with Trogdor? Let us know in the comments!