Complete the Death Knight starting experience in Wrath Classic before November 28 to earn Frostbrood Proto-Wyrm in WoW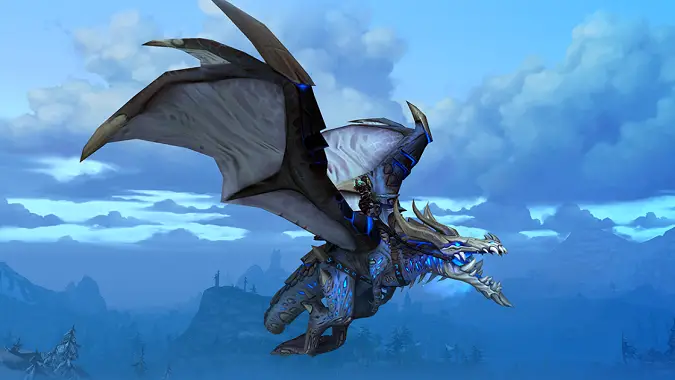 A surprise new mount showed up in World of Warcraft: the Frostbrood Proto-Wyrm. Earning this new mount is pretty easy, because all you have to do is create a Death Knight in Wrath Classic and complete the intro scenario. Once you've done so, this shiny new mount will arrive for you in retail WoW — but you're running out of time to get this new ride, because you have to earn your Frostbrood Proto-Wyrm before Dragonflight launches on November 28.
This is actually a pretty remarkable gift to players; playing on the Classic servers is still included as part of your standard WoW subscription, and unlike when Wrath originally released you don't need a level 55 character before creating a Death Knight — anyone can log on and make one. The introductory experience for Death Knights isn't exactly a breeze — looking at you How to Win Friends and Influence Enemies — but even those unfamiliar with the class should be able to unlock the mount after an hour or so of play. And if you've already played through the Death Knight starting experience, the mount should be waiting for you already.
That is, of course, if you can even get logged into Wrath Classic; the server queues for the most popular servers have been hours long — long enough that Blizzard has shut down character creations on the most populous realms. Fortunately for newcomers who just want the mount, the servers you can create characters on will all be lower population. If you're just interested in getting the mount to ride in retail — you can't actually use the mount in Wrath Classic, just to be clear — you can create your DK on any lower population server with the exception of the "Fresh Start" servers.
When Dragonflight releases on November 28 this promotion will end, so be sure to fit it into your schedule before then. It may become available eventually in the Black Market Auction House like the Obsidian Worldbreaker did, but there's no guarantee.
In the past a mount this nice would've been a promotional or store mount that required you to surrender real money. Rewarding players as a way to encourage them to try new things is a nice shift for Blizzard and I hope it's one they continue to use in the future.
Originally published September 8, 2022. Updated November 24, 2022.