Why do you love the things you love in games? Why do ideas and concepts appeal to you in some games but not others?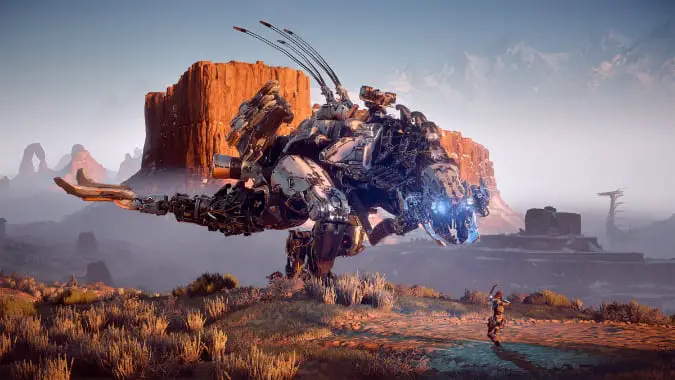 I was looking at the nominations for The Game Awards this year and thinking about how good I thought Horizon Forbidden West was, and about how it was released in the same year as God of War Ragnarok and Elden Ring so it's probably not going to win. And that got me thinking — is the fact that Horizon Zero Dawn has robot dinosaurs (something Horizon Forbidden West not only kept but actually expanded into all kinds of robot fauna) enough for me to prefer it over other objectively great games?
The answer is yes.
Yes, that's absolutely the case — you put robot dinosaurs or muscular assassin ladies who fight things out of Greek myth in your game and you would have to really mess up something for me not to at least view your game as a warm, snuggly blanket of a game to warm my cold, withered heart on particularly depressing days. Side quests, an open world you can explore and keep finding new things, and a transmog system? Sign me the heck up. I haven't sunk so many hours in Cyberpunk 2077 because I'm a fiend for the genre.
I mean, Red Dead Redemption and its sequel, Red Dead Redemption 2, are often cited as exquisitely written and fantastic experiences by people I respect and the fact is, you tell me that I can play a game like them or a game that has robot dinosaurs or a glowing sci-fi minotaur boss fight, and I'm going to pick those options. It's not that the other games are bad, it's that they're not to my taste. But why is that? Why am I so utterly disinterested in Demon's Souls, which has all the trappings of stuff I'd enjoy, but I can spend a ton of time playing the Diablo series?
So instead of constant navel gazing, I'll ask y'all — what do you love in games? What makes you immediately say Ooh, I want to do that when you're looking out at the wide, wide field of available games and picking ones to play?