What will Diablo 4 cost?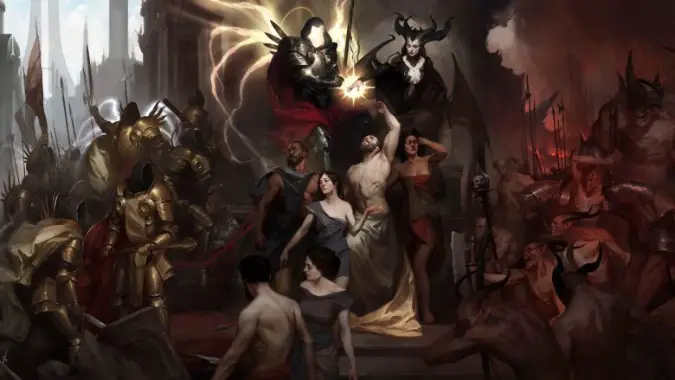 It's a long road to hell, and the denizens of Sanctuary know that all too well. But at long last, we have a release date for Diablo 4, which means the time to buy (or possibly to pre-order) is nigh. So how much will it cost for you to play a whole new world of demon-smashing fun? Turns out that can vary quite a bit. Let's break down exactly what you'll spend to play Diablo 4.
Pre-order costs are the usual for a AAA game
Kegan Clark, the Diablo 4 director of product, explicitly said that the sequel will be a full-price game. That usually gives people a ballpark on price, but we now have pre-order information ahead of game's June 6 launch. The standard edition of the game costs $69.99 to pre-purchase, and that will likely remain the price tag after launch. Most AAA games are retailing around $70 these days, so that's a pretty standard base price.
If you want extra in-game goodies and a head start on unlocking the Battle Pass (because yes, there's another Battle Pass), you can pre-order one of the upscale versions. The Deluxe edition costs $89.99 and the Ultimate edition is $99.99.
Diablo 4 is joining the Battle Pass bandwagon
Recent Diablo titles have offered players a seasonal model, where they roll a new character and get limited-time rewards for participating. Diablo 4 will do the same, with a seasonal approach similar to that of Diablo 3 but with more robust support. Each season will give the developers a chance to introduce brand new content to the world as well as smaller updates such as meta tweaks and quality-of-life improvements.
Diablo 4 will layer some additional mechanics into this familiar approach: a Season Pass and an in-game shop. If anyone has been playing Overwatch 2, the language and philosophy behind these new Diablo 4 features will sound familiar. The Season Pass in Diablo 4 will have two tiers, one free and one paid, for earning additional rewards as you play through the season. The free pass will offer cosmetics, premium currency, and gameplay boosts, while the paid level offers just cosmetics and premium currency (which can only be used to buy cosmetics). That means any power increases will be equally available to all players without additional payment.
We've learned from recent developer updates that the Battle Pass will cost $10. So far, it sounds like the seasons won't necessarily follow a set schedule. There could be up to four seasons each year, so plan to budget up to $40 annually if you plan to commit to every paid tier of the Battle Pass.
The in-game shop is only for cosmetics
The other place you may find yourself spending money is the in-game store. Items in the shop are purely cosmetic and are purchased with premium currency that you buy with cash.
"The way we approached designing the Shop and the cosmetics within it was by thinking about the experience we want players to have. We want buying things to feel good–before, during, and after purchase. So, if players choose to buy something, it should be because they want to, not because they feel like they have to. It should also be clear to players exactly what they are getting before they choose to buy, with no unpleasant surprises," explained Clark.
Clark also noted that the armor transmogs purchased from the Shop will be usable for all characters of that class. He also said that the shop items would not be home to the best-looking items, emphasizing that there will be plenty of unique and legendary quality pieces available in-game without any extra cost. But what will we pay for cool cosmetics in Diablo 4? If we look to Overwatch 2 as a guide, though, a set of legendary level cosmetics could cost about $20. However, since Overwatch 2 is free-to-play, that team may be looking to generate a bigger chunk of revenue from the store than Diablo 4 does. We'll have to wait and see. Blizzard has yet to offer any specific prices.
So the big takeaway on Diablo 4's cost is that it will run the same amount as most blockbuster titles in the industry. Your final price tag for Diablo 4 will be at least $69.99, but could rise as high as your desire for extra swag demands. It'll fall on each player to set their own limits when it comes to spending on cosmetics and bonus goodies.
Updated December 16, 2022