Chris Metzen returns to Blizzard as Warcraft Creative Advisor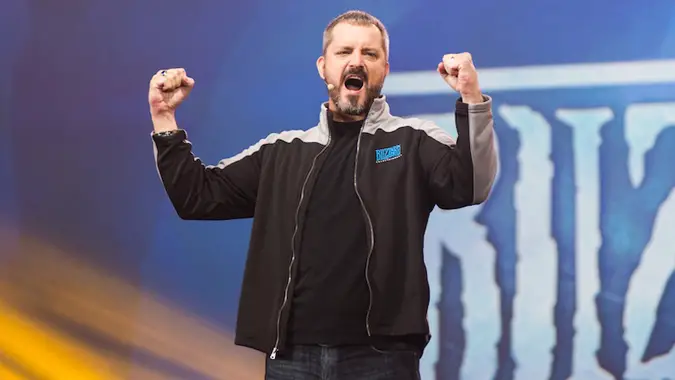 Chris Metzen is coming back to Warcraft after retiring from Blizzard in 2016. But after six years away, it hit me today that some of our readers may not even know who Metzen is, or why it's such a big deal that he's returning. When Metzen left he was the Senior Vice President of Story and Franchise Development, but he'd been there from the beginning of Warcraft, and in a very real way, Warcraft as we know it exists because Chris Metzen is a total nerd. He started working at Blizzard in 1994, when the company was developing Warcraft: Orcs & Humans, and was heavily involved in franchise's story development moving forward. He was the original Creative Director for Overwatch, and he voiced many Warcraft characters over the years, but he's best known for playing Thrall.
Warcraft General Manager John Hight made the announcement that Metzen will be returning:
It is with great joy that I announce Chris Metzen has joined the Warcraft Leadership Team as Creative Advisor. Chris's focus initially will be on World of Warcraft, then his work will expand to other projects across this growing franchise.

Chris was one of the original team members working on the Warcraft universe back when it began in 1994, and we are so happy to be reuniting him with the world he helped create.
The mention of "other projects" interests me, because I wonder if this mean new projects. Maybe Blizzard will let him make the single player RPG I've wanted for decades now… but it's more likely he'll be working on known projects like Warcraft Arclight Rumble, Hearthstone, or even the survival game that we haven't heard much about. But I feel like you don't bring the guy behind so much of the game's original lore back just to put him on games you already have more or less going. However, it isn't yet completely clear what Metzen will be doing at Blizzard.
One of the reasons Metzen left was to spend more time with his family and focus on his own mental health, and I'm hopeful that we'll get a well-rested and focused Chris Metzen back doing what he does best — getting everyone ridiculously excited about World of Warcraft.