When is the WoW Dragonflight patch 10.1.5 release date?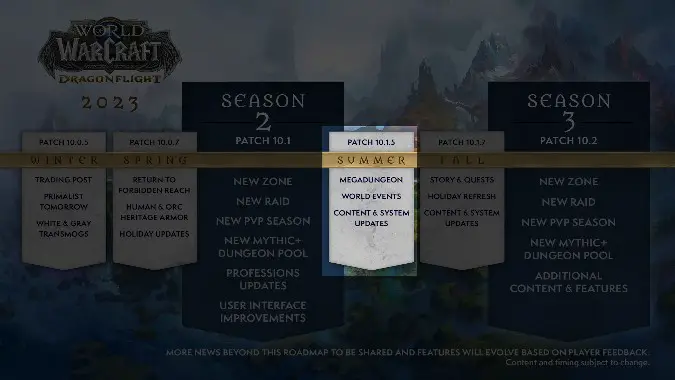 The World of Warcraft development team has announced an ambitious patch plan for Dragonflight in 2023, with patch 10.1.5 the fourth of six patches scheduled to go live before the end of the year and the second patch of Season Two. While patch 10.0.5 is expected "early next year" the only additional guidance as to when we should expect to see patch 10.1.5 is that it should arrive during the season of summer — which doesn't limit by much as it's a three month window. That said, mid to late July is the most likely time for patch 10.1.5 to go live in order to complete the six patch plan.
Patch 10.1.5 is the second X.X.5 patch for Dragonflight, and its key feature will be the arrival of the expansion's "megadungeon" which typically has eight bosses and can only be done on Mythic difficulty when first released. The actual location and content of the megadungeon is unknown at this time as Blizzard is being careful with letting spoilers get out. Besides the new instanced content, the roadmap specifies additional world events and content and system updates, but nothing specific has been revealed yet.
The key determiner of the release date will be the amount of time on the PTR for each patch; even with a future patch deploying to the PTR immediately after a new patch goes live we should still expect 5-8 weeks of testing, maybe even longer for the major patches. In addition we should expect each season to last roughly six months as that matches the desired expansion release cadence of every two years with the expectation that there will be four seasons, with the fourth season a "fated" season like in Shadowlands.
Patch 10.1.5 should be hitting the PTR immediately after patch 10.1 goes live. With an expected release of patch 10.1 in late May, the declaration of a summer release for it on the roadmap doesn't really help as we wouldn't expect it to go live before or after the summer months anyway. The new megadungeon will require a good amount of testing so it won't be a fast turnaround. That said, there are still two patches after this one left in the year, which makes it likely that patch 10.1.5 will go live in mid or late July, perhaps the week of July 24.