How was your Love is in the Air celebration this year?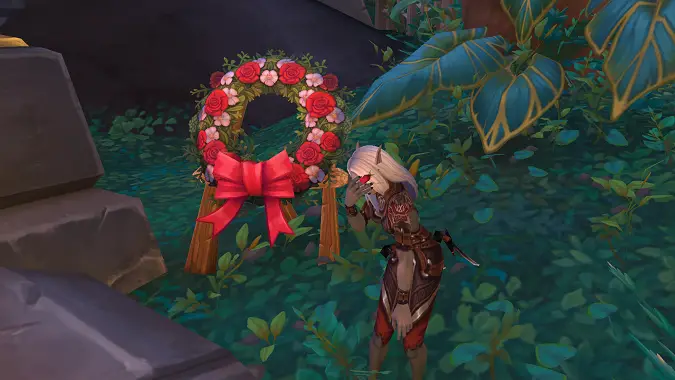 Despite the increase in drop rate for the first attempt of the day, I was unable to acquire the X-45 Heartbreaker this year during the Love is in the Air holiday. That's ok, though, because I know enough other people have gotten it to make me confident that it is obtainable before World of Warcraft servers get turned off for good — which was not the case with the previous drop rate. Of course, the aptly-renamed Heartbreaker isn't the only activity for Love is in the Air even if it does dominate the coverage.
Of particular interest this year was the holiday coinciding with the unveiling of the Trading Post. Those who hadn't earned all the possible rewards yet were able to increase their point acquisition by having a picnic in the Ohn'ahran Plains or by spraying perfume on unwilling victims in the capital cities.  The other big news recently is the lifting of holiday requirements from some transmog options, meaning the Lovely Dresses and Dinner Suits were worth acquiring if you didn't already have them.
The one thing I didn't do was venture into Classic to partake in the original Love is in the Air, because my frustration with that version made me quit WoW the first time. While the Wrath Classic servers use the revamped holiday that persists until present, I didn't have a character ready to give it a whirl. Unfortunately because the Heartbreaker remains my only uncollected item from the holiday I didn't really get a chance to feel love in the air, just a little frustration from the lack of a mount drop.
So how lovely was your holiday? Were you able to acquire the Heartbreaker? Did you pick up some transmog that you didn't already have? Did you try to kiss Sraaz in Wrath Classic? Or did you mostly skip the event as you wait for the holiday updates?