WoW
Mar 8, 2023 3:00 pm CT
New Dragonriding mounts, abilities, and races in Dragonflight patch 10.1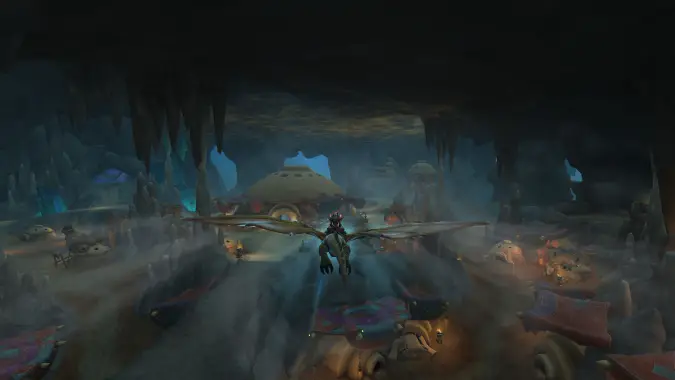 Dragonflight patch 10.1, Embers of Neltharion, is introducing the brand new Zaralek Cavern zone, a new raid, and plenty of other activities and rewards for players to jump into, or rather, fly into! In patch 10.1, Dragonriding will be immediately available to use in Zaralek Cavern, and won't need to complete a pre-requisite achievement or any other qualifier to unlock it. You'll be able to ride your dragon right into Zaralek Cavern the moment it goes live.
Blizzard has a different philosophy with Dragonriding than they have with mounts in previous expansions. It's meant to be a continuous experience you can build on with each release cycle instead, without arbitrary lock-outs where you have to re-earn it. Each patch will let us build on the Dragonriding gameplay experience rather than make us work for it all over again.
To that aim, patch 10.1 will bring us new Dragonriding talents, glyphs, mounts, and activities. And though we don't yet know all of the details about Dragonriding in 10.1, this is everything we know so far — and it's plenty to get excited about.

New Dragonriding talent: Ground Skimming
Our current methods of recharging vigor require a combination of height and velocity which poses some obvious problems when you're flying around a subterranean cavern. Even though we'll be getting Dragonriding updates in patch 10.0.7, in Embers of Neltharion we'll also be getting a new dragonriding talent called Ground Skimming, which will recharge vigor by flying close to the ground. That should help us navigate our way through the caverns different regions without needing to stop.

New Dragonriding mount: Winding Slitherdrake
A new Dragonriding mount will be available in patch 10.1, the Winding Slitherdrake! Inspired by the existing cloud serpent mounts, this drake will be available to us in black, blue, and red colored variants. Since this is a new drake type, we'll be getting new customization options that we can unlock in Zaralek Cavern and through activities coming in patch 10.1.
This is admittedly what I'm looking forward to — I love the lean, serpentine design of this drake.
More glpyhs and new races
Zaralek Cavern wouldn't be a new zone if it didn't have more Dragonriding glyphs and timed races. We don't know how many glyphs will be throughout the zone but with Zaralek Cavern being slightly bigger than Zereth Mortis, there will probably be quite a few. We'll also have new timed races in Zaralek Cavern and Blizzard hinted the above-ground Dragon Isle zones might be getting new races as well.
Thepatch 10.1 PTR goes live on March 9 so we'll get better idea of the other additions coming to Dragonriding in patch 10.1 very soon!