Which group of dragonkin, if any, would you like to see become the sixth Dragonflight?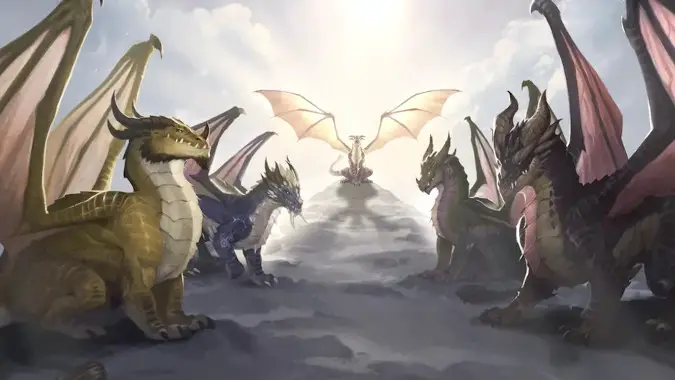 To make it clear from the very start: There are no leaks or hints that suggest there will definitely be another flight added in Dragonflight to the five already established. While it would certainly be interesting if an Orange Dragonflight arrived in patch 10.2 after making the long trek from Tel'Abim, that is not what I'm proposing here. Instead, I'm thinking more in terms of the Valdrakken Accord and whether another member will be added to the ranks.
The reason I'm considering this possibility is that I've noticed "spaces" (for lack of a better word) where, if the development team wanted to add a sixth group, it would require minimal changes to feature them. For example, in the Valdrakken temple there are six pillars with banners: one for each of the dragonflights, and one for the Valdrakken Accord itself which could easily be swapped out. There's also a spot at the top of the temple for another dragon — besides Merithra, who is absent — to take a place.
Even if there weren't visual rationalizations, there's always a narrative possibility for one of the current antagonistic dragons to be brought into the fold. The first candidate is someone who showed up briefly during the leveling experience in Thaldraszus — the Infinite Dragonflight. While previously I never would've entertained the possibility of the Infinite Dragonflight being "good guys," the temporary détente Chromie and Eternus forged during that quest chain shows that the Infinite are not incapable of cooperation. I don't consider it likely, though, because the Infinites are such a reliable antagonist to both our heroes and the lore — but as a possibility it should be considered.
The other group that makes sense even if they're not strictly a Dragonflight are the proto-dragons. While there have been no moments of peaceful coexistence like there was with the Infinite Dragonflight, it would be an odd resolution to the expansion's narrative for it to end with the Dragon Isles still a battleground. If another antagonist arises over the course of the expansion, I could easily see one or more of the Primal Incarnates putting aside the current conflict to ally — if uneasily — with the Dragonflights.
What about you? Do you think we'll be able to find peace with some of the Infinite Dragonflight or the proto-dragons? Do you have another candidate in mind — perhaps the Nether dragons will follow behind Sabellian? Or do you think we're going to end the expansion still with five members in the Valdrakken Accord?