WoW
May 9, 2023 2:00 pm CT
How to watch the Mythic Aberrus Race to World First — now live!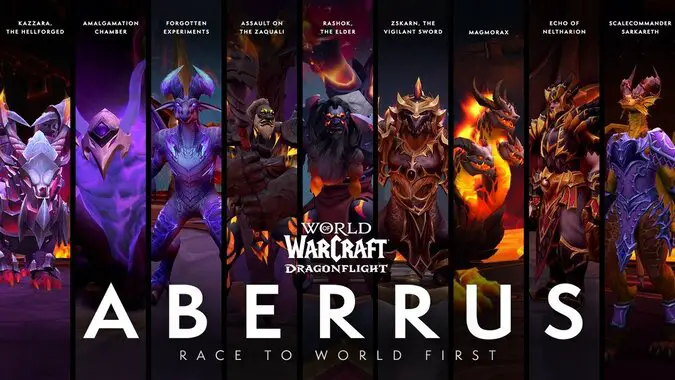 With Aberrus, The Shadowed Crucible now live, the Aberrus Race to World First is on! This race's competition is sure to be fiercer than a dragon who's been left buried beneath the earth for millennia covered in shadowflame. Our three biggest names in the competition are all ready to prove that they're the best raiders in the world and have what it takes to conquer the secrets of Neltharion.
Echo, Team Liquid, and Method are the frontrunners in this race; no other teams have managed to pull off the consistent progress and success that these three titans have. They're all also running in-person streaming events for the race. Getting all their raiders into the same place really helps with team cohesion and morale while also letting them put on fantastic shows for the viewers — all of them are worth watching.
While those mainstay Mythic guilds will be streaming progress, not all of last tier's top teams are participating in the race. The top five guilds from Mythic Vault of the Incarnates were:
Echo
Liquid
Method
Skyline
BDG
Of those five, only four have made Race to World First announcements for this tier. Skyline is, unfortunately, going to be unable to compete with the near-total removal of Blizzard products from China. Other top guilds have dropped out as well: the German guild Aversion has chosen not to continue raiding at the Race to World First level. However, there are still plenty of guilds who will be streaming the race.
While we're all looking forward to the World First action, don't expect any of these guilds to dive into Mythic right away. With Mythic difficulty launching at the same time as Heroic, we're likely to see several days of guilds running Heroic splits and Mythic+ to gear up before going into harder content. So don't expect much movement on the leaderboards in the first days of the race.
Ready to watch? Here are the top streams to watch if you're keeping tabs on the Aberrus Race to World First:
Echo (EU)
The moment has come… Introducing, our Race to World First: Aberrus the Shadowed Crucible on-site casting team! 🥳

Tune in on May 9th to catch @okaymage, @Dratnos, @FatbossTV, @PreachGaming, @KristaStreams, @JeathWoW and @djarii with live coverage of all the #EchoRWF action! pic.twitter.com/zlo1UFG88K

— Echo (@EchoGuild) April 29, 2023
The returning champs — multiple times over now! Echo is looking strong coming into this race as they've been racking up victories in the Mythic Dungeon International events quite handily. The RWF feels like it's Echo's race to lose at this point. They've consistently proven their skill, flexibility, and stamina in past RWF events and for them to be beaten now will require Liquid or Method pulling out all of the stops and digging deeper than they have the last two races. Echo is also once again raising money for a mental health charity with donation stretch goals throughout the race. These races are the best when guilds use their platform to help make the world a better place.
Watch Echo on Twitch starting May 10
Team Liquid (NA)
It's about that time…

Watch the Race to World First live on May 9th at https://t.co/ioM0BmNbwL 📺 pic.twitter.com/sdZlPWaFDS

— Liquid Guild (@LiquidGuild) May 1, 2023
North America's top raiding guild makes their return to challenge for the top spot. After a rough race in Sepulcher and a better showing in Vault, will this be their triumphant comeback raid? They've been extremely consistent in making Echo work a little harder for their victories. If you're curious about the amount of work that they've put into their past races, Team Liquid has released an amazing behind-the-scenes look at their Vault of the Incarnates race.
Watch Team Liquid on Twitch starting May 9
Method (EU)
Method Presents the Race to World First:
🔥 Aberrus, the Shadowed Crucible 🔥

🇩🇪 Live from Germany 🇩🇪

–May 10th–
🌐 https://t.co/zO9Q7f5uNz
📺 https://t.co/zl7YSb32cw pic.twitter.com/c9zfrBIyVv

— Method (@Method) April 28, 2023
Method is once again doing an in-person raid broadcast! After their third-place finish in Vault of the Incarnates, they must feel that the time is right and the extra push from being together could mean the difference between coming in third place and taking the crown. They've consistently been improving over the last few raid tiers, so this could be their time!
Watch Method on Twitch starting May 10
BDG (NA)
(2/2) A couple of overdue announcements from your friends over at BDG.
We'll still be putting on our own event over at https://t.co/EcpNuGIwxL! Our love for RWF has not waned, and with some new names on the team we'll be pushing for an even stronger finish. Tune in!

— BDG (@bigdumbgaming) May 9, 2023
BDG once again returns to the fight with a late announcement that kept us all in suspense. Could this be the year that they crack the top three? They have some stiff competition in Method for that spot. With an organization shakeup and new faces on the roster, I'm eager to see how well they can compete this year. Sometimes an infusion of new blood is all it takes to unlock potential.
Watch BDG on Twitch starting May 9
FatSharkYes (EU)
big ANNOUNCEMENT!

We will stream progress for the first time ever. Make sure to follow us on twitch for some big content coming uphttps://t.co/zEugNhSUUP#bloodinthewater #bilar

— FatSharkYes (@Fatsharkyes) May 3, 2023
FatSharkYes has been around for a long time, but this is the first time they've decided to do any World First streaming. It's going to be interesting to see how their strategies compare with the rest of the guilds in the race, and if they'll be able to break into the top spot on the leaderboard. I know that I'm always rooting for them to do well based on their name alone.
Watch FatSharkYes on Twitch starting May 10
I can't wait to see who winds up being the hardest boss out of Aberrus. I'm sure that the Echo of Neltharion is going to be a major roadblock, but I wouldn't be surprised if Scale Commander Sarkareth winds up taking longer than Raszageth — we'll just have to tune in to find out!
Good luck to all of the competitors and may the best team win!
Originally published May 8, 2023; updated May 9, 2023