What do you think of Overwatch 2's mini-event, Starwatch: Galactic Rescue?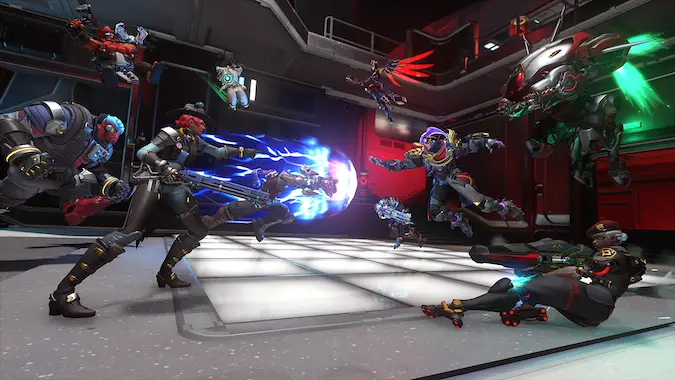 This spring, Overwatch 2 has brought a new Arcade mode to the Season 4 lineup. With shades of the Star Wars and Warhammer franchises in the art direction and plot, this riff on the usual team shooter gameplay is certainly big on style. Starwatch revisits the old Assault map type, while bringing in some Team Deathmatch flavor and some notes of PVE. But is it also big on fun? Is this cocktail working for you?
Because I'm digging it.
In terms of the game mode itself, I was never as deeply disgruntled by the Assault maps as the rest of the Overwatch community, so I'm pleased that we still have a chance to play it, even for just a couple weeks (outside of the occasional dates when Assault maps pop up in the Arcade rotation). Horizon Lunar Colony might be my least favorite of the Assault locations, but something about this being a limited-time event is making me enjoy it more.
I did think that Battle for Olympus felt more… special, I guess. It seems like the aesthetics are what's most unique about Starwatch, while Battle for Olympus was a really smart, unique take on a Deathmatch mode. Especially when you got to play on Ilios, the whole Greek god fantasy really took off. I think that's the bar I'd like to see Blizzard keep trying to meet and surpass as they explore this approach to keeping Overwatch 2 fresh and dynamic. And I'm pleased that the successful events won't be a one-and-done situation; Battle for Olympus will be returning later in Season 4.
But that's my only gripe. I think that with the elimination of Loot Boxes, these mini-events might come to almost fully replace the seasonal events of the original game. It gives the Overwatch designers and players a chance to goof around, to experiment, and to have some low-stakes fun. So I'm curious if you readers who only came back to the game for Summer Games, Halloween Terror, and the like are finding events like Starwatch to be a satisfactory draw.
What about you? How do you feel about Overwatch 2's latest mini-event?