Pathfinder Nexus debuts its character creator open beta, challenging D&D Beyond's supremacy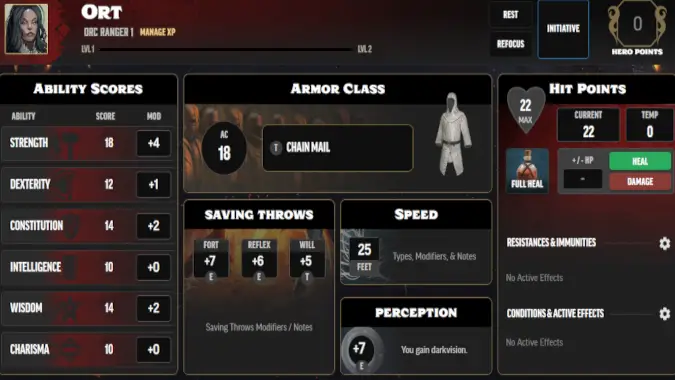 For a while now, the main disadvantage that Paizo's Pathfinder 2e has had competing with its more popular sibling, the fifth edition of Dungeons and Dragons, has been the lack of digital creator tools as broad and useful as D&D Beyond. Wizards of the Coast even bought the service because of its influence on letting new players make a character. But now, with the release of the web-based Pathfinder Nexus' online character tool's open beta on Demiplane, Pathfinder 2e has an answer to that. How does it stack up when compared to the service it so clearly intends to emulate?
There was no need to reinvent the wheel here and the Pathfinder Nexus' Character Tools have not done so. What this program does, and does well, is allows you to take the rather broad and chock full of options Pathfinder second edition rules and distill them down into a created character with minimal effort. You simply click on the Create a Character button on the View Characters page and you're off to the races. There's even a Create a Group feature found by clicking the big blue Create button on the top of the page that you can use to set up your next game, with a variety of game systems (not just Pathfinder 2e) so that's pretty neat.
Do you want to be able to share the books you purchase with your party? You can do that. Do you want to be able to make a character quickly? For an even moderately experienced hand it doesn't take very long at all — maybe fifteen minutes if you're picky — and novices could likely get it done in twenty, less with someone available to explain certain options. You can even generate a link to allow others to look over your character. I even found things like importing a new character portrait to be much faster and easier than on other such platforms I've used.
You can use the base version of the Pathfinder Nexus and its character tools for free, or get unlimited character creation and other options for $4.95 USD. And you can link your Paizo account, so if you own certain books on PDF already, you can purchase them at a discounted price on the Nexus. I would have personally preferred to just get the books unlocked for free since I already own them in print, but the discount is better than some competitors offer. Frankly, being able to search the text of a PDF as opposed to trying to comb print indices for information is a huge quality of life boost, likely worth the money. You link your Paizo account by logging in to Paizo's site, then going to your Account page and looking up your Partner Authorizations. Clicking the 'Manage Partner Authorizations' button will generate a code for you, which you can then enter at the Nexus. If you've ever linked Twitch or Amazon Prime to your Blizzard account, it's a similar process.
Right now, as a character creation tool, it has stolen from the best and has made a few seamless improvements that make the whole process even easier to use. I'd definitely pay five bucks a month for this. I admit, I would have been ecstatic if I'd gotten my current PDFs for free, but considering that no other company lets you do that, a discount is better than nothing. I think it's absolutely worth the money, especially with the content sharing enabled. This doesn't mean there aren't features they could incorporate in the future to improve the tool, like an encounter builder. But right now, I'm pretty happy with what we're getting. It's a very solid option for character creation, making it easier than ever to start playing Pathfinder 2e.