How has your experience been during the Diablo 4-World of Warcraft crossover event?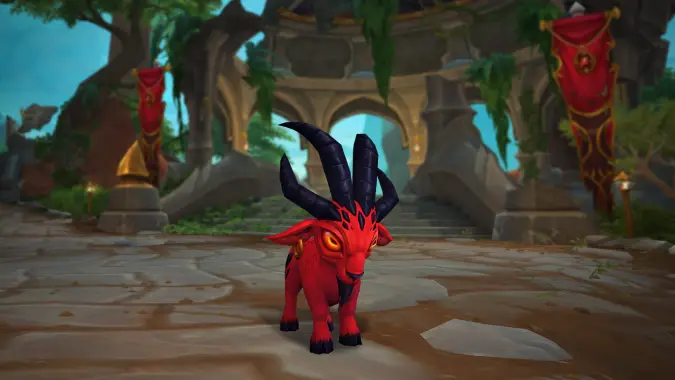 Diablo 4 finally arrives this weekend and World of Warcraft is celebrating with the return of the Treasure Goblin from the 20th Anniversary event (the Cow King is missing in action, perhaps a hint of the Cow Level possibly missing in D4). Titled A Greedy Emissary, this event gives you the opportunity to gang up on the poor Treasure Goblin in the hopes it'll drop some loot including a cute goat pet, some transmog/toy options both new and from the 20th Anniversary event, and even a chance at Tyrael's Charger. Every thirty minutes the goblin arrives, alternating the spawn portal among Orgrimmar, Stormwind, and locations in the Dragon Isles — with a nice five-minute window for everyone to gather in wait.
Frankly it's boring as heck.
Look, I'm never going to criticize the chance for fun cosmetics, but there's a reason why the Treasure Goblin in Diablo is so iconic — it provides a challenge to stop and even escapes sometimes. That's not happening on Azeroth. Instead, everyone goes to the portal to wait for the spawn and once the goblin arrives all the cooldowns go off and it's burned down in no time. If you're lucky you get one of the aforementioned cosmetics (or a kind soul trades the pet to you if you don't already have it), otherwise you'll get some gold and possibly a charm that might be useful but likely isn't in order to simulate the Diablo 2 experience. Then in 30 minutes you go and do it again.
On the plus side, you don't have to be subscribed to take advantage as "veteran" accounts are still eligible to tag and loot. The rewards are pretty emblematic of Diablo 4 as well (although I don't see myself using any of the varieties of Wirt's Leg for transmog). The drop rate of everything but the mount is pretty solid as well, and I was able to acquire what I was interested in the first night. Still, it just feels like that if you're implementing an event to tie-in to Diablo, it should feel less like a loot piñata and more like an experience befitting Sanctuary.
How do you feel about the event? Have you gotten everything you want from it, or are you still farming? Or are you not bothering at all? And most importantly does it make you feel hyped for Diablo 4?