Phantom Liberty is massively overhauling Cyberpunk 2077 — here are the changes you can expect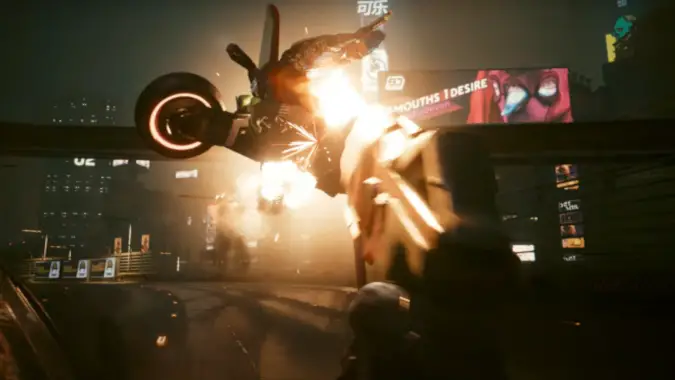 With the new Phantom Liberty expansion coming to Cyberpunk 2077 alongside a free 2.0 update to the base game for everyone, it's fair to say that the game is getting a significant overhaul. In fact, it almost seems reductive to call it an overhaul — it's hard to find a system that isn't getting redesigned, altered, or expanded upon. And while the new content of the expansion will be limited to players who have purchased the expansion — so if you want to stare dreamily at Idris Elba you'll need to pony up for Phantom Liberty — even if you don't, a great deal of the changes are coming for all players.
So what's changing with Phantom Liberty? Dang near everything. Let's cover the changes that you'll see to the base game first.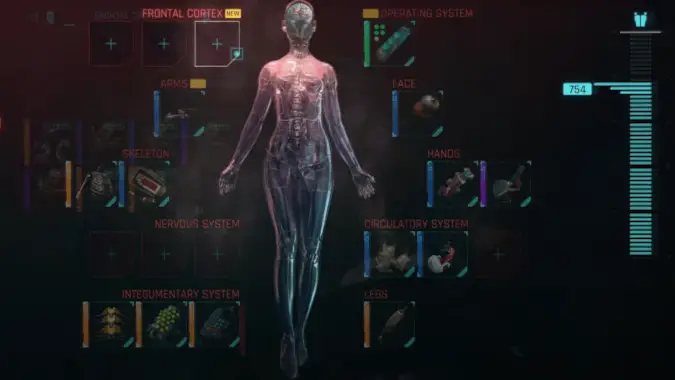 Update 2.0 makes Cyberpunk 2077 into a new game
The coming update — Update 2.0 — adds significant new additions to the base game of Cyberpunk 2077. One of the biggest changes is to armor. Currently, you derive your armor stat — which reduces how much things like bullets, baseball bats, and so on hurt you — from your equipped clothing. Once Update 2.0 drops, clothing will no longer provide any stats at all. Your clothing will become purely a cosmetic fashion statement for your V.
The redesigned cyberwear system will now link your armor to your equipped cyberwear. In the above image, you can see the updated Integumentary System category and several new types of cyberwear equipped in it. These are literally options that are applied underneath or directly to your skin, allowing you to specialize in things like stealth or face first combat as you desire. We can also see that the current Immune System modifying cyberwear has been removed, that we now have an extra Hand slot, and there's now a legendary cyberwear mod for the legs which is not currently the case in the live game. You will also have to be more careful about what cyberwear you have equipped because going overboard will tax you physically.
The game's Perk system is also redesigned with Update 2.0. Perks will now unfold in a way that allows for more options and customization, and fewer "spend 3 points to max out an incremental damage or health buff" options. Special finishing moves will also be unlocked by using the new Perk trees, with a series of them demonstrated in the trailer including one that lets you throw what looks like someone's leg at people.
There will be a new Relic tree. While this tree will require you to play the Phantom Liberty content to unlock it, it will still be introduced alongside the rest of Update 2.0, meaning that all Cyberpunk 2077 players will see it there, maddeningly promising new powers involving using the Relic to boost our abilities for a limited duration.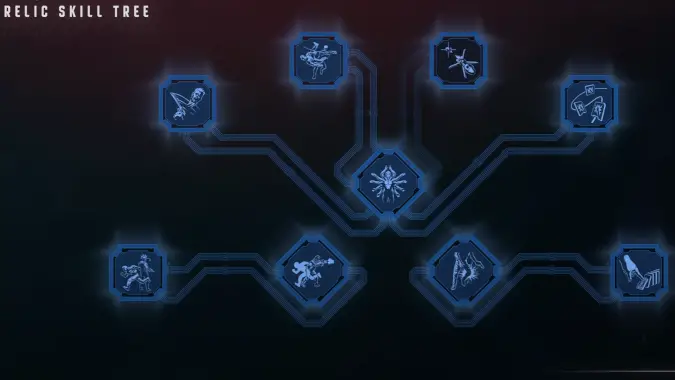 Night City gets even more dangerous
Wven without the new enemies and access to the Dogtown Black Market that you'll get by playing Phantom Liberty, the base game is seeing a host of changes to systems that we've long since grown accustomed to. For starters, Vehicular Combat will be available to anyone playing the game, allowing you to use your current weapons and cyberwear while driving to fight other drivers. The features trailer shows V in a souped up Shion not only using their cyberwear to hack enemy cars, but also using weapons mounted on the car to fight others — up to and including the Police.
The entire Wanted system of the current game is being removed and replaced as well. The new system requires more effort than finding a quiet alcove to think about what you did — you'll have levels of Wanted which will cause the Police to escalate their hunt for V, up to and including the dreaded MaxTac special forces squad — imagine a SWAT team who are dangerously borged up and carrying the latest and greatest weapons. Dealing with the Police will be a lot more involved than in the current game.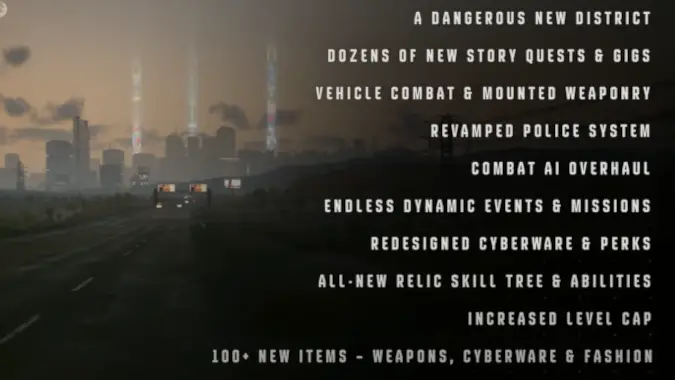 Dogtown and the new storyline will still be expansion only
Now, while the vast majority of changes will be there from day one affecting all players, there are specific things that you'll need Phantom Liberty to access. The expansion's major story is expansion only, involving NUSA (that's the New United States of America) President Myers crashing her Space Force One  — well, she probably wasn't flying it — into Night City's dangerous Dogtown region ruled by a despotic Colonel Hansen. It may well remind you of Escape from New York, but the storyline quickly gets a lot more complicated, with spy intrigues and shifting alliances.
Since the expansion's new Dogtown Black Market is tied to the expansion story as well, some of the new items, like weapons, cyberwear, and new clothes so you can make the most of the cosmetics-only clothing feature — which is very much the most important part of every game that allows it — will also be limited to players who purchase the expansion. You will also need to travel through Dogtown in order to activate and level up your Relic skill tree, as the devices needed to do that are in Dogtown.
Still, a good deal of the changes coming to Cyberpunk 2077 will be accessible to all players, and not just those of us who will be playing the expansion. We're looking at a whole new game once Update 2.0 goes live, although that won't be for a bit over a month as it drops with Phantom Liberty on September 26, 2023.