WoW
Sep 7, 2023 4:00 pm CT
Meet the Dream Wardens, our latest allies and the new Renown faction coming in Dragonflight patch 10.2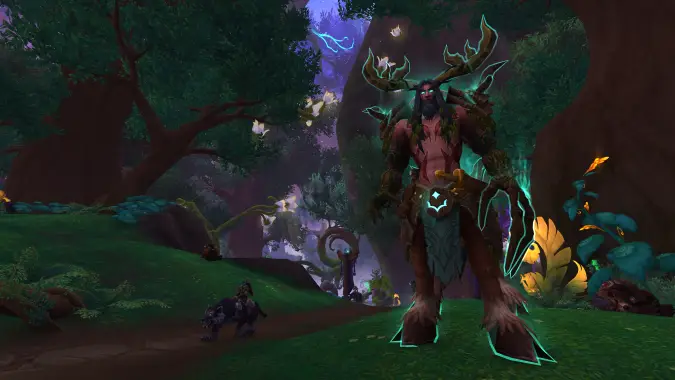 The Emerald Dream is the newest zone coming in Dragonflight's upcoming patch 10.2 Guardians of the Dream, and it's home to our newest allies and latest Dragonflight Renown faction, the Dream Wardens, who are the resident protectors of the Emerald Dream. Previously, we saw green drakes called Dream Wardens in Cataclysm's Dragon Soul raid but in patch 10.2 the Dream Wardens will also include Keepers, dryads, druids, and runebears alongside members of the Green Dragonflight.
In patch 10.2, Fyrakk has crossed over directly in to the Emerald Dream and launched a direct attack against the World Tree sapling, Amirdrassil, whose growth has started to cross over in to Azeroth. Fyrakk isn't alone, and he's brought the Zaqali Djaradin as well as his newest allies — the Druids of the Flame — with him to see his plan through. It's up to the Dream Wardens to stop him, and they'll need our help to do it.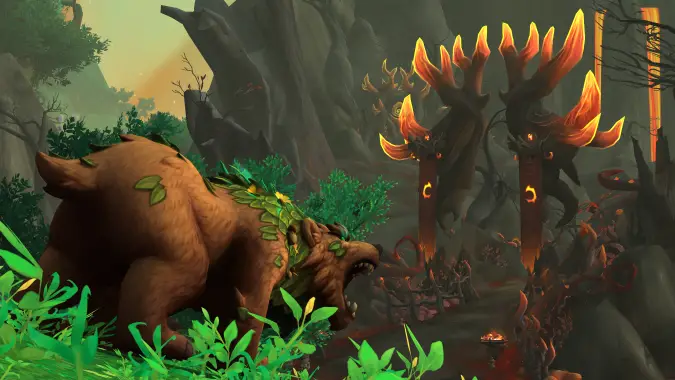 The new Emerald Dream zone will contain the new raid, three inter-connected public activities, and be the main stage for the story in patch 10.2. Much like patch 10.1 and the Loamm Niffen, patch 10.2 will undoubtedly have a quest introducing players to the Dream Warden faction and reward their faction rep for completing patch 10.2 story quests. Like the other Dragon Isles zones, the Emerald Dream is probably going to have world quests that reward Dream Warden reputation. The Dream Wardens will probably also have faction-intrinsic activities (like hunts for the Maruuk Centaur, fishing and cooking for Iskaara, and digging/sniffing for the Niffen) that allows you to earn reputation, but it remains to be seen what that could be. I'd bet gold on something that involves growing and cultivating, similar to the Queen's Conservatory in Ardenweald.
Also like the other Renown factions in Dragonflight, the Dream Warden Renown track will probably offer players new gear, weapons, pets, and cosmetic items. There's also a new Dragonriding mount coming in patch 10.2, the Faerie Dragon, and players will likely have its main customization options and manuscripts tied to the Dream Warden Renown track and vendors, while some of the previous vendors may get Faerie Dragon customization options similar to the Winding Slitherdrake in patch 10.1. There's also the potential for new items for the other dragonriding mounts as well.
There's still a lot to learn about the Dream Wardens, the Emerald Dream itself, and what else patch 10.2 has to offer. The PTR is supposed to go live sometime this week and once it's live will give us a pretty good idea of what else to expect in this new zone and much more in patch 10.2.