WoW
Sep 19, 2023 9:00 am CT
How to get the Pirate's Day Armor for your Highland Drake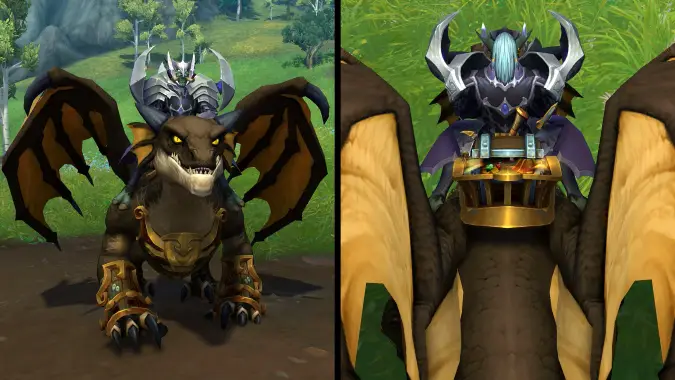 It's Pirate's Day in World of Warcraft and your Dragonriding mount is ready to enjoy the festivities with their own special Pirate's Day Armor. Since it's only available for one day — and Pirate's Day doesn't have a special currency to obtain like Brewfest or Love is in the Air — the Pirate's Day Armor for your Highland Drake can be purchased with a few chests' worth of gold. Just head to Booty Bay once the festivities have started and share a drink with Dread Pirate DeMeza to partake. Once you're suitably attired you can purchase the Highland Drake: Pirate's Day Armor manuscript from Dread Pirate DeMeza for 50,000 gold.
Pirate's Day 2023 is over, so you'll have to visit Dread Pirate DeMeza next year to get this armor. In the meanwhile, you can get a new Dragonriding appearance at Brewfest!
Dread Pirate DeMeza isn't too hard to find if it's been awhile since you last partook in Pirate's Day. Head down to Booty Bay in the Cape of Stranglethorn and look for her on top of the bank's roof (if you use a coordinate addon she's located at 40.0, 72.6). There may be a crowd of player pirates around her but she should be protected by the standard "important NPC" dismount and interactable zone. Simply hand over your gold and once the manuscript is in your bags right click it to learn it.
The Pirate's Day Armor is account-wide so you only need to purchase and learn it once, although it's important to note that the only Dragonriding mount that can equip it is the Highland Drake — if you were hoping to carry treasure on your Renewed Proto-Drake or the Flourishing Whimsydrake arriving in patch 10.2 you're sadly out of luck. To switch to this armor appearance head to your nearest Rostum of Transformation, select the Highland Drake's body customizations, make sure Armor is on and select the Pirate's Day Armor.
Even though it's only available to purchase one day a year, the Pirate's Day Armor can be equipped on your Highland Drake for the entire year. So be sure to scrounge up some gold (it's perfectly acceptable to waylay some merchant ships in order to obtain it!) and head to Booty Bay to make sure you can put your treasure where you can keep a close eye on it while cruising through the Dragon Isles.